Home » Movies
Eat This Up–The JULIE & JULIA Trailer is Here!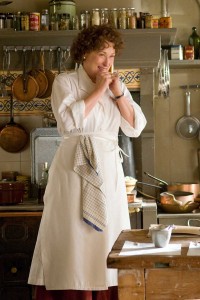 I know that's Meryl Streep in the trailer (see it below) but her voice and look are uncannily like the famous chef's. I freaked for a moment: "Julia Child is dead! How can she be in this movie?!"
"Based on two true stories," the feature is about Child finding her calling and a woman named Julie, played by Amy Adams, searching for a purpose in life by cooking her way through one of Child's cookbooks in one year. The trailer looks so-so, but it's got Streep and Adams and Stanley Tucci and Jane Lynch and Mary Lynn "Chloe" Rajskub (who has the funniest line in the trailer) so it has to be smart and witty, right?
What do you think? Gonna see it when it comes out August 7? (UPDATE: I went to a screening. See my review here.)