Home » Books & writing
Book Review & Giveaway: THE GLAMOUR OF GRAMMAR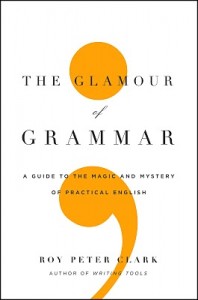 How much of a nerd am I? I spent last Saturday night at home reading a book on grammar and considered it a good time. That's because Roy Peter Clark makes it fun in The Glamour of Grammar, a book of writing guidelines. As introduction, Clark says "this book invites you to embrace grammar in a special way, not as a set of rules but as a box of tools…It doesn't shout at you, 'No, no, no,' but gives you a little push and says, 'Go, go, go.'"
And that it does. It helps that I've always loved grammar and language in general. I don't like the term "grammar snob" because I don't think I'm better than anyone. I simply want to put my best foot forward when speaking and writing and avoid sounding like an idiot. If my blog were full of mistakes, I imagine you wouldn't be reading this.
So yes, I have an interest in this book's subject matter but wouldn't have necessarily enjoyed it if it weren't for Clark's breezy, witty, friendly voice. There's no stuffy preachy tone here. Unlike William Strunk and E.B. White's The Elements of Style, which has great advice but is bare bones in delivery, Clark offers anecdotes along with his tips on how to write more effectively. Even if you never dangle modifiers, split your infinitives or confuse "lie" and "lay," this book can help you take a more conscious approach to language. Haven't we all said or written something then later claimed, "That's not what I meant!"?
I like how Clark encourages us to break rules whenever necessary to avoid "hypergrammar," syntax that's correct but calls too much attention to itself, e.g. "for whom are you looking?" instead of the more common "who are you looking for?" I heartily agree when he writes:
As writers, we should never be satisfied with the words we inherit, the ones that already appear in our dictionaries. Learning to use them correctly is the license we need to bend them, stretch them, and blend them with others, as context, meaning, and audience allow.
If you're thinking, "OK, you've convinced me I need a copy of this book even though I'm already brilliant," you're in luck. Hachette Book Group is allowing me to give away two copies. To enter:
be a subscriber or Twitter follower (tell me which; new subscribers/followers get 1 entry and current ones get 2)
leave a comment about what grammatical issues trip you up the most
live in U.S. or Canada, no P.O. Box, per HBG's request
Giveaway ends Tuesday, September 7, 5 p.m. PST. Winners will be chosen via Random.org and only announced here and on Twitter. I will not contact you personally so please check back to see if you win. Winners have 48 hours to claim the prize before alternate names are chosen.