by Sarah Carbiener
"So you understand that men have their secrets." —Mrs. Tobin
"But so do women, and I find that women are better at keeping them."—Patty Hewes.
I usually loathe shows about lawyers. They're either sanctimonious with soap boxes and young bucks who just want to make the system work the way it's supposed to, or they're about a group of hot, oversexed yet still brilliant legal minds whose inability to keep their pants on always gets them into trouble. In other words, I usually find them pat and boring.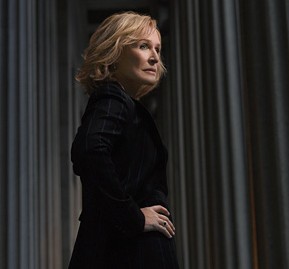 But this is not the case with Damages, and for two reasons:  1) The show stays out of the courtroom, which is smart considering much, if not most, of the drama from being a lawyer happens outside the courtroom, and 2) it stars Glenn Close as Patty Hewes. When she's on her game, she's a powerhouse: unreadable, immovable, and so much fun to watch. When she's coming apart at the seams, she's unpredictable, manic, and so much fun to watch.
This season, like the two previous, begins with a mysterious, violent incident and then is intercut with events that took place in the six months leading up to the opening act. At the start of season one, Ellen (Rose Byrne), the young doe-eyed associate, wanders into a police station confused and covered in blood. This time it's Patty in the hot seat. It's going to be great to see Patty play the persecuted, somewhat clueless victim, even if it turns out she's been playing her own game the whole time.
In addition to Patty and the absence of the courtroom, this show is highly entertaining for its cast and the guest stars it brings in to fill out the new case. (Hmm, that seems to be a running theme in my posts here.) This season's case is all about figuring out where financier Bernie Madoff—I mean, Louis Tobin (Len Cariou)—stashed all the money he stole, and the Tobin bunch is played by fantastic actors. Lily Tomlin as Mrs. Tobin, the beleaguered wife who supposedly had no idea what hubby was up to, is brilliant, and her scenes with Patty promise to be consistently amazing. Martin Short as the Tobin lawyer is also great fun to watch. I'm not the only one who loves comedic actors nailing dramatic parts, am I?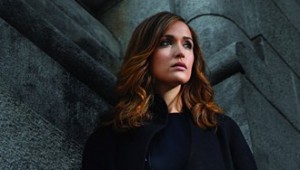 My least favorite part of this show is Ellen, but even she is easier to take this season. Unlike the first season, when she's so naïve that you're just waiting for Patty to literally eat her alive; or the second, when she swings all the way to the other side as she seeks revenge, Ellen finally feels as complicated and nuanced as Patty. The student is finally a strong foil for the master.