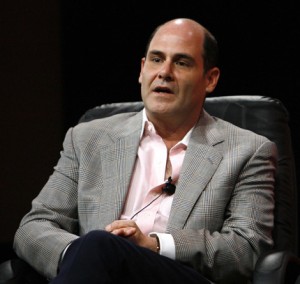 As part of the WGA Foundation's fantastic Anatomy of a Script series, I had the pleasure of hearing Matthew Weiner talk about the pilot script for Mad Men. Luckily for me, the three-hour talk evolved into a discussion of his writing career as a whole, how he runs his show (and make no mistake, it is one hundred percent his show), and his obsession with tarot cards. Okay, maybe he didn't go on at length about his obsession with tarot cards, but it did dominate the first five minutes of the discussion.
The thing that shocked me the most about the pilot that started this amazing series is that no one would read it. That is not hyperbole. He was working on the pilot while writing for Becker (the Ted Danson sitcom where he played a cranky doctor to prove he wasn't just a laid-back bartender) and no one would read it. He was hired by David Chase to write for The Sopranos and still no one would read it. And this was, is, one of the best pilot scripts of all time, in my opinion.
So when against all odds, he got to shoot the pilot, and then against even higher odds, he got to make the show, Weiner decided to be uncompromising as all hell. He rewrites every episode, demands the show be shot the exact way he wrote it, and doesn't apologize for any of it. I've heard similar stories about showrunner-creators and usually been more than a little disappointed to learn that my idol is a tyrant. Weiner, however, said something that had never occurred to me before: He "doesn't want to waste it."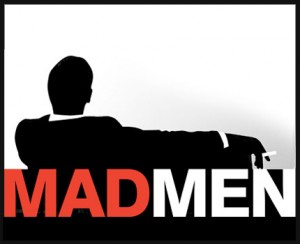 The odds of getting your own show on television are greater than the odds of an airplane crashing into the room where you're sitting with your computer right now (his expression). Since the impossible happened, he's going to take full and complete advantage of it. He works, lives, and breathes all things Mad Men, knows it better than anyone, cares about it more than anyone, and so why shouldn't the shot of Betty looking at the camera be shot the way he wants it?*
As for the pilot itself and its genesis, he dictated the whole thing to someone he paid to type for him. He spent the money so that he would take the endeavor seriously. He hired a researcher, read books, worked for years on the concept, and then literally spoke the whole thing out loud over the course of nine days. Granted, it played on a culture and time that he'd been obsessed with since a child, but still. Nine. Days.
Someone asked if his experience writing his own pilot made him want to change how pilots are developed now. The short answer is yes; longer answer is don't develop pilots at all. Write them for free, for yourself, because letting a guy in a suit tell you to make the doctor a personal trainer isn't going to make for a great script.
He also insisted that The Sopranos was a comedy. After he explained that the episode he won the Emmy for was about Tony realizing a guy was a rat because he said Tony looked like he lost weight, I see Weiner's point. From working on that show, he learned "Don't talk everything to death," meaning at a certain point, the room full of writers agreed on how humans behaved and didn't need to logic everything to death. For example, when are people the most self-destructive? When they're on top of the world.
Finally—I know this post is running long but trust me, I'm cutting it short because the man talked for three hours—he said one of the truest things about being a struggling writer I have ever heard. Quoting as best I can from my scribbled notes:
"Struggling to make it, everyone thinks about it as the rejection of a finished work. No one will read you, no one will hire you, and that's part of it. But struggling is really about all the time you're wasting and not hating yourself for what you haven't done yet."
So don't hate yourself for the scripts you haven't finished, do your research, don't assume that because no one's ever read you that they never will, and never bring a tractor to Madison Avenue.
*He never denied that he appreciates the team behind him. He said over and over that his wife is responsible for half of what you see in the show, giving her advice, support, and opinion on every aspect of it. In fact, she is directly responsible for a speech in season 2 that left me sobbing twenty minutes after the episode ended. He said he couldn't do the show without the room full of writers fleshing out the stories and characters each episode, but yes, he does rewrite them.