By Sarah Carbiener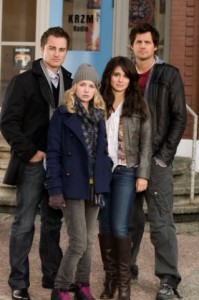 Before the premiere of this show, I would have told you that, after Grey's Anatomy's Meredith Grey, I was really tired of the tough, pretty, talented woman who can't commit to a sweet guy who loves her despite her many flaws. But playing AM-radio talk-show host Cate Cassidy on Life Unexpected, Shiri Appleby made me forget all about Meredith and her existential angst.
We meet Cate on the day her loving boyfriend proposes and, after hitting him for springing the question on her while she's holding a snow ski, she accepts. Fast forward to when Baze (Kristoffer Polaha), the boy with whom she had a one night stand in high school, outs her on her radio show for being the girl who got knocked up on prom night, or actually, "more like winter formal." She runs out mid-show and meets the daughter she gave up for adoption in the radio station parking lot.
Lux (Brittany Robertson) had hunted down her birth parents purely to get their signatures so she can jump through some legal hoops, escape foster care, and become emancipated on her sixteenth birthday. Things do not work according to plan, and the birth parents end up as her legal guardians.
The extended trailers all over the Internet made the plot of this pilot episode obvious and predictable, but it's the tone, characters, and details that really sell this show. The chemistry amongst the cast is great, and they manage to deliver even the cheesiest lines—which there were surprisingly few of—with honesty and sincerity. For the most part, the dialogue is very smart, and though not quite up to Veronica Mars-caliber—RIP Neptune—it was much more consistent than the rest of the fare on CW.
The show also did a great job of working through the logic of Lux ending back up with her birth parents. The show's creator, Liz Tigelaar, who was adopted, obviously knew how important it would be to deal with this setup as honestly as possible. Whatever legality or quirks of the foster care system they fudged, they did it well.
And the details in the relationships are seriously great. My favorite moment was between the cynical Lux, who's lost all faith in the adults who haphazardly control her life, and Baze, the ambitionless slacker who only owns his own bar because his father left him the building. After Lux declares that she hates YouTube, the two watch the famous clip of Christian the lion being reunited with the British guys who raised him (see video here) and they both end up crying.
Life also has weighty moments, like when Lux alludes to the terrible parent figures she's had in foster care, or when she goes back to her foster home to find all her stuff packed, but I can already tell it's going to be memorable for its slightly silly yet touching moments like Lux and Baze crying together over a YouTube video.