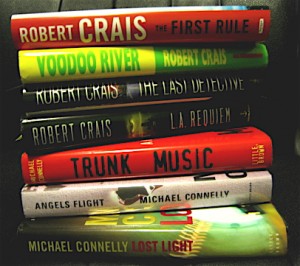 This topic has come up a few times for me recently so I thought I'd open it up for discussion. If you're about to start reading an author who writes a series, how important is it for you to start at the beginning? If you're a reader who has been reading that series from the start, how much backstory do you want the author to include to fill in those who don't read in order?
My husband was reading Jim Butcher's latest Dresden Files adventure, Changes. It was the first one he'd sampled but 12th in the series. He said, "I wish Butcher had included more details on past events so I'd have a better understanding of what's going on." I said, "Well, if you're curious, you can always go back and read the other ones. At least he didn't spoil them for you."
See, we're not sticklers about starting with book one. What if the author doesn't hit his/her stride until book 8? You might stop reading after the third one and miss out on a masterpiece. I know writers who'd prefer you don't judge their series by the first book, like actors who try to steer you away from their very first gig in Children of the Corn: Impaled on the Cob. I've also known readers who quit a series too soon and no nagging on my part could get them to hang on for the breakthrough book.
Now, I'm not talking about a finite series with serialized plots heading towards an ending that's already been planned out. If anyone ever advises you to start the Harry Potter series with Goblet of Fire or the Millenium trilogy with The Girl Who Played with Fire, just slap them hard. It's like saying you should watch the Star Wars movies by starting with The Empire Strikes Back. You'd be sitting there, thinking, "What is a Muppet doing in here and why does Luke keep hearing some old dead guy in his head?" No, I'm only discussing series with self-contained installments here.
And let me be clear that I'm not against reading in chronological order. I've often done so and am all for it if that option is available/feasible to you. The experience will be richer if you know all the backstory before embarking on a new adventure. Which brings me to the second question in my opening paragraph: How much background is needed in each subsequent book?
When I've been following a series from the start, I sometimes get impatient as it progresses because the author has to include details from past books so new readers don't feel lost. Depending on how well the writer incorporates those threads, I find myself skipping passages, thinking, "I know that already. Get on with the current story!" I'm also averse to TMI if I jump in mid-series: "The dead guy in the last book wasn't really dead? Guess I won't be reading it now." It's like I said to my husband: New readers can research the backstory on their own.
Do you ever feel this way? Am I being Grumpy McBitchy? What are your preferences when reading a series?