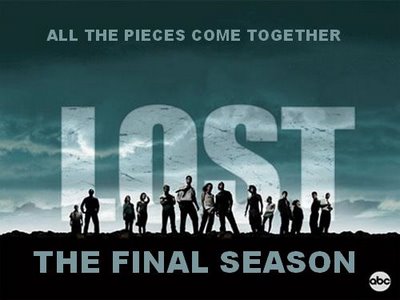 by Sarah Carbiener
The Lost final season premiere felt like an effort to not disappoint any one segment of its fans and thus risked disappointing all of them. Showrunners Damon Lindelof and Carlton Cuse seemed determined to have their cake and eat it, too, but that was all right with me.
Of all the shows to write about, this is possibly the hardest to discuss without spoiling it. Any scene reference, almost any single line of dialogue, is enough to give away something huge. This has always been a show where every detail matters, even if it never makes sense or never ties back into the overall plot. So, know that I'm going to do my best to keep it spoiler free but read on at your own peril if you are several seasons (or even an episode) behind.
The fifth season ended with Juliet (Elizabeth Mitchell) detonating the bomb at the bottom of a chasm that in the future would be the swan hatch that Locke broke into and Desmond later blew up. OR, the fifth season ended with more time travel, with all the main characters leaving the 1970s and those crazy hippies running the Dharma Initiative behind in the past and reentering the present timeline. We don't know what happened because the whole thing flashed to white and we were made to wait many months until Groundhog Day 2010 to find out what actually happened.
The season premiere gave us many answers to that cliffhanger question, and what I liked most about the eventful—sometimes stressful—two hours was that it reminded me of all the reasons I enjoyed Lost in its first season. I was reminded of who these people were before they crashed on the island, and all the reasons I had to root for them and their happiness. Furthermore, the direction in which this season seems to be going doesn't negate everything we've seen in the last five. It's building on all the pain, suffering and beautiful moments these people have had together over three years, thirty days, and impossible lengths of time because of so much time travel.
I don't know if the creators will be able to pull off eating their own cake all season, but I'll be glued to a television set every Tuesday night, hoping that they do.