by Sarah Carbiener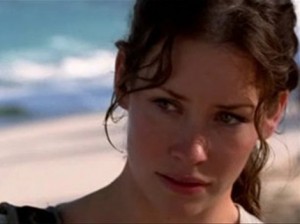 There's only one thing I hate more than filler episodes of Lost, and it's filler episodes that revolve around Kate (Evangeline Lilly). Even after learning of the episode's title, "What Kate Does," and lowering my expectations for it, I was still pretty disappointed by the final title card.
Most of my frustration was derived from the "flashbacks" to Kate the fugitive. (Those of you caught up on the show know why flashbacks is in quotes. Those of you who aren't should be intrigued…) To me, Kate the fugitive was never half as interesting as Sayid the torturer or Charlie the has-been musician or even Jack the spinal surgeon with a god complex. In all the ways that the season premiere reminded me why I initially loved all these characters, this episode served as a reminder of all the reasons I didn't love Kate. Despite that, the little details, hints, and callbacks in the flashbacks were really fun to watch for, and I wish there had been even more of them.
Back on the island, even in the scenes without Kate, they repeated other aspects of the show I grew tired of several seasons ago. Over and over again, the Oceanic survivors demanded answers from a group of mysterious captors who ignored their pleas for information. Thankfully, the episode did end with a mysterious, powerful figure being straight with Jack, and although it was a juicy reveal, it was too little too late.
This episode did set a lot of character dynamics, mysteries, and plot lines in motion for the rest of the season. If you plan on watching it all on DVD, you probably won't even be bothered by how little happens here because the next episode won't be 167 hours away.*
If you love Kate and Evangeline Lilly, I look forward to reading your comments defending her and her tracking skills. If she frustrates you like she does me, let it out!
*This observation would have been so much cooler if there were, say, 158 hours between episodes. Or 1623. Or 4.