by Sarah Carbiener
Disclaimer: This was one of eight episodes left in the final season of Lost.  At this stage of the game, avoiding spoilers is nigh impossible. You have been warned.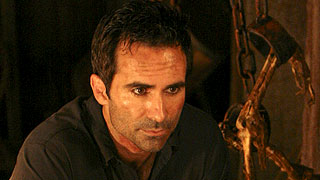 I'm incredibly conflicted and frustrated after watching this episode, and it's not because I didn't enjoy it. I did. I think…It was the Richard episode. Something I've been looking forward to since we learned he doesn't age and his eyeliner never smudges! It's not that my expectations were so high that it was impossible for me to enjoy it. Season six up to this point has done plenty to lower my expectations, and I had very few preconceived notions as to what Richard (Nestor Carbonell) was about because he's always been so mysterious.
There were things I absolutely loved. They dropped the sideway flashes in favor of one continuous flashback in which we learned exactly what Richard went through to get to the island. They didn't splinter the forty-three minutes between so many characters that each ends up with too little to do. Richard is in almost every single scene, and these scenes take place over a hundred years before the rest of the gang was born.
Since we spent so much time in the mid-nineteenth century, there wasn't a lot of, "Tell me what's going on!"  because it was obvious to a Catholic like Ricardo (Richard's given name). He died and went to hell. Not only is that a brilliant nod to one of the earliest, most prevalent Lost theories,* but it's so true to Richard's character that it doesn't feel cheap. The guy is literally old school.
I also really enjoyed the way they built up to Richard's immortality. After he accidentally murders a man, he asks a priest for God's forgiveness. The priest cruelly tells him the only way to regain God's grace is through penance, and because he's going to be hanged in the morning, he doesn't have time for that.
Then there was the scene on the beach where Jacob laid it all out. This episode answered a lot of the mythology, and while some of it was about the set dressing (how Black Rock ended up in the middle of the jungle and how the statue on the beach became a four-toed foot on the beach), Jacob gave us a pretty major answer. He brings people to the island to prove to the Man in Black that, of their own free will, people are inherently good.
I don't mind at all that this is coming down to a battle of good versus evil. In fact, I think that's the most satisfying place a series this sprawling could go. I don't know, though, if I can stomach Jacob crashing planes and ships, bringing people to the island and letting them watch their loved ones die in their arms, just so the Man in Black can see how kind they were to their fellow man before they kick it. I mean, really?
When Jacob asked what would be the point of his telling people to do the right thing, I absolutely love that Richard countered with, "But if you don't, he will!" Jacob obviously hadn't considered this, and that's how Richard got his job as the man who tries to convince people to do the right thing on behalf of Jacob, the Jiminy Cricket of the island.**
Maybe I just need to sit down and watch the whole thing again. Was anyone else as torn as I was? Want to chime in on the wine bottle, the boar, Isabella, and the dozen other things I glossed over?
* It reminded me of the Hurley episode where he's convinced he's back in the mental institution and everything is happening inside his head. Another Lost theory intelligently disproved in a great episode.
** In this economy, anyone who can create a position for themselves is to be appreciated.