Since this is a YA novel, I thought my contributing writer, Aline Dolinh, 12, who reads at a 30-year-old's level, would be a better reviewer than I.—PCN
*****************************************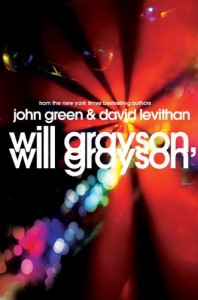 Will Grayson, Will Grayson by John Green and David Levithan is an enjoyable read. The story is told from the perspectives of two teens coincidentally named Will Grayson, alternating every chapter.
The first Will seems more or less normal; he goes through life abiding by two rules: 1) Don't care too much and 2) Shut up. He has an overly theatrical, large, gay friend named Tiny Cooper, who seems to be Will's polar opposite despite being his best friend out of the few he has. In fact, much of the book is focused on Tiny and how both Wills feel and are affected by his actions.
The other Will Grayson is a somewhat troubled and clinically depressed guy who seems less than amiable at times. His first sentence is "I am constantly torn between killing myself and killing everyone around me," which gives you a sense of what he's like. His narration is distinguished from the other Will in that nothing is capitalized and all dialogue is in script form. The lack of capitalization is probably supposed to convey his indifference about the world, but sometimes it comes off like someone trying to show off his indifference to the world. The writing style felt forced in a few places and some of the emotion is lost through the script format.
These guys don't meet until the middle of the book, which is plenty of time for their respective lives to branch off into what seems like completely different directions. Will Grayson No. 1 forms a maybe-crush on a girl, goes along with Tiny and puts up with his sometimes-over-the-top gay behavior, which is stereotypical and slightly irksome. Will No. 2 has a mild addiction to the Internet due to an online relationship with someone named Isaac, who seems to be the only person in Will's life he actually feels happy with.
I don't want to reveal any crucial plot points; I will just say by the end of the story, both Wills have discovered a few things about themselves. The character development in the book is pretty good, even if some characters aren't particularly likable. At some points I got tired of Will Grayson No. 2, with his constant lack of enthusiasm for almost everything; he sometimes comes across too whiny for my taste. Sometimes, I found myself rooting for one Will or looking forward to that Will's chapters over the other.
But the book is well written for the most part; both characters have distinguishable styles and there was nothing too purple-prose-y or painful to read. The story leads up to a climax during Tiny Cooper's musical production of epic proportions and has a satisfying ending. This—mixed with originality, a few sprinkles of humor, and a theme that's thought-provoking yet not too preachy—makes it a book worth reading.
I would recommend it to kids twelve or older, since there's strong language as well as some parts that are suggestive and not entirely ethically correct. It's definitely not appropriate for any kid younger than ten.