Fall is officially here and so's the fall network TV season. I enjoy sampling all the new shows, even if I end up faithfully watching only two of them. Below are my first impressions of shows that have premiered already or are available online.
A to Z (NBC, premieres Oct. 2, avail now here)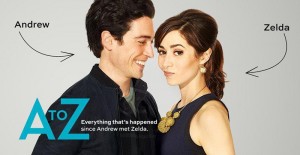 Ben Feldman and Cristin Milioti are appealing as a couple whose dating exploits are examined from A to Z. Andrew works at a dating site and believes Zelda is The One because he's convinced she's the girl he fell for from afar when he spotted her at a concert years ago. Zelda is a lawyer who's a bit hesitant to buy into notions of fate, but decides to give a relationship with Andrew a go. Over the season, we'll see how that works out.
Milioti, the mother from How I Met Your Mother, is charismatic while Feldman is attractive in a generic way; the latter description also applies to the pilot. Both stars have Broadway chops and neither has tendencies to be gratingly cute, but it remains to be seen whether or not the writers will make their courtship unique enough for viewers to keep tagging along.
Forever (ABC, Sept. 22)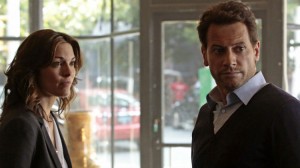 Ioan Gruffudd stars as Dr. Henry Morgan, a medical examiner who has been alive for over 200 years and still hasn't figured out the purpose of his immortality.
At the beginning of the pilot, he's on a subway train that derails and everyone else in the car with him dies. When he does the autopsy on the train conductor, he finds the man was poisoned, and the police have a mass homicide on their hands.
The detective working most closely with Morgan is Jo Martinez (Alana De La Garza), who suspects something is off with Morgan but trusts him because he has Holmesian powers of deduction. She's like a younger Sela Ward and Gruffudd exudes a combination of class and mischief that makes their chemistry…interesting.
Judd Hirsch plays the only person who knows Morgan's secret, or so Morgan thinks until he gets sinister phone calls from someone who says he knows all about Morgan because the caller is also immortal. I don't know if I'll be eager to tune in to Forever every week, but Gruffudd's charm does make me want to check it out again. (It premiered last night but another episode airs tonight.)
Gotham (FOX, Sept. 22)
Possibly the new show with the biggest marketing dollars behind it, Gotham was underwhelming, more style than substance. The muted colors and foggy streets suggest darkness, but no one is truly menacing.
The actors, from Donal Logue and Ben McKenzie as detective partners Harvey Bullock and (future commissioner) James Gordon, to Jada Pinkett Smith as junior mob boss Fish Mooney, all spit out lines in a cadence that's probably meant to invoke classic gangster films but instead just seem affected. There are lots of pretty people in the show but no one makes a strong impression so far.
Since Batman will not appear—though the boy Bruce Wayne is present—I don't think these secondary characters from Gotham City are arresting enough to hold my interest. Plus, once we've seen Michelle Pfeiffer play Catwoman to perfection, why do we need to see anyone else play a baby Selina Kyle?
Madam Secretary (CBS, Sept. 21)
Tea Leoni (who also produces) plays Elizabeth McCord, a former CIA analyst whom the president of the United States (Keith Carradine) asks to become Secretary of State when the current one's plane goes down in the Atlantic. The president wants someone who "not only thinks outside the box, but someone who doesn't even know there is a box." (Can we please retire the tedious box metaphor already?)
I enjoyed seeing the scenes shot at my alma mater, the University of Virginia; Elizabeth and her husband Henry are professors there before she accepts the president's offer and moves to DC. Leoni projects confidence and intelligence but also grit when Zeljko Ivanek's Chief of Staff tries to put her in her place.
She has nice chemistry with Tim Daly as Henry and makes political speeches palatable. Leoni is just cool. When Ivanek's character insists on Elizabeth getting a makeover, I thought, "Is he crazy? The woman's gorgeous as is!"
The supporting cast is impressive, with standouts being Geoffrey Arend as Elizabeth's speech writer and Erich Bergen as her assistant. Bebe Neuwirth is underused in the pilot. The show is not groundbreaking or edgy and probably won't be must-see TV for me, but it's good to see Leoni back on TV.
Selfie (ABC, premieres Sept. 30, avail now here)
John Cho and Karen Gillan star in a contemporary Pygmalion, with ad-executive Henry trying to rebrand shallow, social-media-addicted coworker Eliza as a lady with real-world manners.
Cho and Gillan are both better than their material; his comedic skills are wasted as the humorless Henry. Eliza is vapid and annoying in the pilot, coming across like one of those reality women whose first and last name start with K. It takes a talented actress like Gillan to not make Eliza a complete turnoff for viewers, to hint there's a likable person underneath, but the notion that Henry would take her on as a project is still unconvincing.
The show gets props for casting an Asian actor as the lead opposite a Caucasian actress, something that's never happened on network TV. I just wish it was a better vehicle for its stars.
Tune in later this week for my thoughts on more new shows. Have you checked out any? Found anything you like?
Photos: A to Z/NBC; Forever/ABC; Gotham/FOX; Madam Secretary/CBS; Selfie/ABC