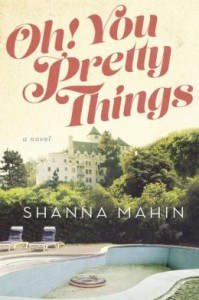 Jess Dunne, the protagonist of Shanna Mahin's Oh! You Pretty Things, is 29 years old, recently divorced, third-generation Hollywood and not sure what to do with her life. The story opens with her quitting a barista job at a hipster café because she's not hip enough to get the desirable morning shifts.
One thing she can do is cook, and the guy who takes her coveted shifts at the café refers her to his former boss, an Oscar-winning film composer who might be agoraphobic. Jess becomes the composer's personal assistant, which leads to her landing the plum gig of assistant to glamorous A-list actress Eva Carlton. Just when Jess is enjoying her life adjacent to the spotlight, her estranged, former-child-star mother comes to Los Angeles for an extended visit, threatening Jess's sense of stability and making her revisit some ugly secrets from her past.
Jess is a likable heroine, an anchor among flighty people. What helps her maintain her sanity is a sense of humor ("I've been watching the shopping channel so long, I'm running out of reasons to not order those fake ponytails.") Though she's not an actress, Jess keeps up a façade to hide the painful childhood her mother subjected her to.
Pretty Things skewers the film industry with a ring of truth and equal helpings of snark and heart because Mahin, like Jess, is third-generation Hollywood. But the novel is less about the gloss and excess than about finding one's identity and place in a slippery world full of illusions.
This originally appeared as a starred review in Shelf Awareness for Readers and is republished here with permission.