The following piece is by my niece and contributor, Aline Dolinh, who's starting college this fall. Whaaaaat? Remember when she was 12 years old and contributing book and theatre reviews to PCN? But I digress. Read on about the very personal impact the smash musical Hamilton had on her.—PCN
**************************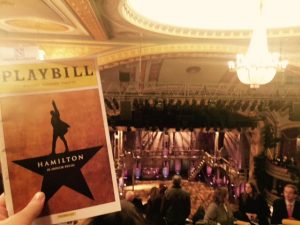 You'd be forgiven for viewing the Hamilton hysteria with some cynicism. Crowned last month with a Grammy for Best Musical Theatre Album, the hip-hop musical by Lin-Manuel Miranda has been met with unprecedented reverence since its Broadway debut in August 2015, having been hailed as a savior of everything from musical theatre to the Grammys themselves.
The hype? To quote a similarly recent pop culture phenomenon, "It's true. All of it."
I'm only a little ashamed to say I broke down into loud and uncontrollable tears when I saw Hamilton in December, alongside thirtysome members of my high school drama department. (I apologize to anyone who was also at the December 10 matinee performance and was in the general vicinity of mezzanine seat E1).
By the time Alexander had fallen to his frenemy Aaron Burr's (Leslie Odom Jr.) bullet near the end of Act Two, I was inconsolable. My friends were sympathetic, but understandably a little confused by my mascara-streaked breakdown. After all, everyone involved had died over two hundred years ago.
Only hours later, during the insomniac bus ride back home, did I realize why I'd identified so closely with Alexander. It was one of those requisite late-night, teenage soul-baring sessions where every secret seemingly carries the weight of sacrament, and as my friends and I whispered our greatest fears to one another, I couldn't stop thinking about a single line from the show: "I imagine death so much, it feels more like a memory."
There's something in Miranda's frenzied delivery of the verse that follows, the way it perfectly encapsulates Alexander's fatalistic, ragged-edged ambition, that still strikes a chord within me. It's the exact same existential anxiety that's kept me restless for years, but I've never heard it articulated so honestly. Hearing those lines now felt validating instead of fearful.
As the daughter of Vietnamese refugees, I'm acutely aware that I'm not the kind of person the Founding Fathers envisioned as their quintessential American. And yet in Hamilton, where the titular character is portrayed as a "young, scrappy, and hungry" Caribbean migrant, fraught with both brilliance and hubris, I found a reflection of myself where I least expected it.
I identified with his inexorable obsession with legacy, his neurotic fixation on overcoming his poor, rootless origins. Throughout the show, his political rivals such as Burr and ideological nemesis Thomas Jefferson deride him in distinctly othering language. Alexander, to them, is simply "this immigrant [who] isn't somebody we chose," a man "desperate to rise above his station."
We are constantly reminded of his status as an outsider, despite his dizzying verbosity and hypercompetence. His relentless work ethic and sensitivity to perceived slights all make sense as the hallmarks of someone who was born—as Burr jealously reminds us—a lowly "immigrant, orphan, bastard, whoreson," and could never truly leave that identity behind.
Alexander's arc is constructed in flight motifs and suggests a constant, American Dream-esque fantasy of social mobility, from his enterprising calls to "rise up," his diligent "rise to the top," and later, in his disgrace, as an "an Icarus who has flown too close to the sun." As a second-generation immigrant myself, it was a narrative I'm intimately familiar with but had never seen expressed so fully. Watching Alexander die felt achingly personal.
I'm well aware it's a little ridiculous to have this much emotional investment in history, but I believe that Hamilton's propensity to provoke such visceral reactions is a good thing. The musical's uncanny ability to wring flesh and blood from the Founding Fathers, who've long been regarded as infallible figures within the pantheon of American history, allows viewers to have a more complete understanding of their times.
Players like Hamilton, Burr, and Jefferson are portrayed as men who created the pettiness of the partisan fray rather than staying above it. It's an impression that remains especially relevant today in our polarizing political climate. The fact that audiences are able to relate and root for (or against) these characters, in all their uneven and bickering glory, is a celebration of history rather than a degradation of it.
Hamilton resonates even more strongly in the classroom, as a way to imbue our conventional wisdom of the American Revolution with the urgent, pulsing vitality of declarations like "when you're living on your knees, you rise up."
Much of Hamilton's ingenuity lies in how contemporary it feels, despite the subject matter. The repeated rallying cries of "rise up!" in the rousing "My Shot," a number that depicts the simmering, nascent moments of the American Revolution, call to mind the #BlackLivesMatter movement's demands for justice, a comparison that Miranda welcomes.
The line "Immigrants—we get the job done!" uttered by Lafayette to Hamilton on the eve of the decisive Battle of Yorktown, was met by at least five seconds of deafening applause in the Richard Rodgers Theatre; it's easy to interpret it as a sly retort to the xenophobic vitriol of Donald Trump.
As an Asian-American girl who's been involved in theatre for the last six years, seeing the half-Chinese Phillipa Soo as Eliza Hamilton feels like its own form of revolution in an industry where Asian women are often relegated to the roles of submissive, sexual stereotypes or domineering dragon ladies. Theatre, for all its imagination, has traditionally read ​white​ as the default, and designated all other identities aberrant.
That's why ​Hamilton'​s choice to cast people of color as the movers and shakers of American history—as Miranda says, "the story of America then, as told by America now"-–is so radical. It explicitly affirms those forgotten identities and humanizes history.