I turned on the air conditioning and pulled out the tank tops two days ago, so you know what that means: I shouldn't be opening the door to strangers.
It also means it's time for the June Nerdy Special List! We have some fine selections for you this month, to ensure you'll never have to be seen in public nekkid without a book. Oh, and I'd like to welcome back Julie at Girls Just Reading to the list!
From Rory at Fourth Street Review:
Marrow Island by Alexis M. Smith (Houghton Mifflin Harcourt, June 7)

Twenty years ago, Lucie was a young girl living on an isolated island in the Puget Sound. Twenty years ago, an earthquake devastated that region, sending tidal waves that ranged all the way from the coast of Alaska to the coast of California.

Now an unemployed journalist, she returns to her childhood home after receiving a mysterious letter from Katie, a fellow survivor and former best friend. Katie says she is living on Marrow Island's "Colony," which, following the oil refinery disaster that killed Lucie's father the day of the quake, is supposed to be uninhabitable.

Curious and with nowhere else to go, Lucie feels pulled to investigate. What she finds is beyond her wildest imagination.

Told in alternating timelines, Smith's sophomore novel features the same gorgeous language present in Glaciers, her wonderful debut. Part eco-thriller, part environmental meditation, the novel opens with Lucie's rescue, and it is a pleasure to unravel what happened. At times, the dual timelines—2014 and 2016—can be slightly disjointed, but it didn't deter my reading, and it did add a nice touch of mystery.

Contrary to my mild disappointment over the closeness in times, I couldn't help but fall in love with the area as stunningly described by Smith. It's moody and atmospheric. I appreciate when a novel utilizes a character's close connection to the environment and surrounding landscape, and Marrow Island is a prime example of this done well. If you love a good mystery with an added post-disaster element, pick this one up immediately.
From Erin at In Real Life:
Die of Shame by Mark Billingham (Atlantic Monthly Press, June 7)

This is a stand-alone psychological thriller from Mark Billingham, whose Tom Thorne series of police procedurals is beloved the world over. Die of Shame concerns the members of an addiction recovery therapy group in London. They're as different as the population of any large city, in terms of age, social circumstances, and the details of their addiction, but they are drawn together each week to share their deepest secrets and most personal experiences.

The story centers around a murder, but it is ultimately a character study and a fascinating exploration of human interaction on multiple levels. None of the group members is especially likable on the surface, but Billingham gives each of them just enough sympathetic traits to ratchet up the story's suspense because we care about them.

[Ed. note: Billingham is a former but not current client of Erin's.]
From Julie at Girls Just Reading:
One True Loves by Taylor Jenkins Reid (Washington Square Press, June 7)

Prepare yourself for the tears; you might not want to read this one in public.

Emma met her true love, her soulmate, in high school. Jessie inspired her to think about life beyond their small town in Massachusetts and to want a life of adventure. After school, they moved to L.A. to pursue their dreams and traveled the world.

All of a sudden, Emma finds herself having to make a life without Jessie, so she moves home and moves on. Until Jessie calls her and tells her he's coming home.

What would you do if you found yourself in love with two men? One man was the love of your life in high school, throughout college and your early adulthood; the other man helped heal your broken heart and discover you had it in yourself to love again. Jessie and Sam are two completely different guys and each brought out a different side of Emma. All Emma needs to do is decide who she wants to be and which guy is the best fit for that person.

Ms. Reid does a fantastic job of showing us a heartbroken and devastated Emma, but she also shows us the hard work and pain that Emma goes through to rebuild herself and her life. You feel Emma's pain as she has to decide between Jessie and Sam. This is the perfect summer read. (Read Julie's full review here.)
From Lauren at Malcolm Avenue Review:
Property of the State: Book 1 of The Legend of Joey by Bill Cameron (The Poisoned Pencil, June 7)

This is Bill Cameron's first foray into the Young Adult genre. If you don't know Bill's work from his fantastic Skin Kadash crime fiction series, do yourself a favor and check that out along with Property of the State. Bill writes with more heart than perhaps any author I read, and that's never been more evident.

Joey Getchie, 16, has been in the foster system longer than he was with his parents. He's been shuffled from foster home to foster home, gaining a problematic reputation and a healthy mistrust of adults along the way.

But Joey is smart and a survivor and has a Plan—graduate early from Katz Learning Annex; file for emancipation; and get out of Dodge, away from the school establishment, the foster system, his current foster debacle; and start a new life.

Of course Joey has never been lucky. He's already in trouble at school, after being blamed for acts of his current foster father, when another student is badly injured, putting Joey and The Plan in further peril.

Bill writes a great mystery and there is plenty of it folded up in the nooks and crannies of Property of the State. This is a book for anyone who enjoys good, intelligent mysteries; humor; multifaceted characters with depth; some smartassery; a little pop culture; and all the heart you can bear. There is a portion of this book that broke me but good. You'll know it when you read it. (Read Lauren's full review here.)

[Ed. note: Regular contributor Jen from Jen's Book Thoughts seconds Lauren's recommendation. Read Jen's review here. So much love for this book. I need to get a copy so I can hang with the cool kids.)

I'm Thinking of Ending Things by Iain Reid (Gallery/Scout Press, June 14)

If you're looking for a tense, nail-biter of a read that just might scare the pants off you and make you want to pull the covers over your head but you can't because then it would be dark and that would be worse, I'm Thinking of Ending Things should go to the top of your must-buy list.

I can't tell you much about the plot without spoiling things, but the setup is simple: Jake and his somewhat new girlfriend are on a road trip to visit his folks at the rural farmhouse where he grew up.

The genius is not in the premise, but in the dastardly, stomach-knotting execution. This is the novelized version of the most perfect suspense film you can imagine, the one that has you continually on tenterhooks.

I don't find myself uneasy to this extent very often while reading, but Reid kept me feeling that doom was just around the next sentence. At 224 pages, the novel made me want to turn right to page 1 and start over again as soon as I'd finished.

If you were a fan of Bird Box or A Head Full of Ghosts, this is most definitely in your wheelhouse, but I recommend it to anyone who likes haunting, atmospheric fiction. It's not horror per se, but it's creepy and harrowing just the same.
From Patti at Patti's Pens & Picks:
Stepping to a New Day: A Blessings Novel by Beverly Jenkins (William Morrow Paperbacks, June 28)

This series by Beverly Jenkins is about a small town in Kansas—"Henry Adams, one of the last surviving townships founded by freed slaves after the Civil War. The failing town had put itself up for sale on the Internet, so Bernadine (who had been awarded $275 in her divorce settlement) bought it."

And then she brought new people to town, set up foster children with new foster parents, and started to grow a community that has lots of love and peace.

In this book, a man named TC comes to visit his nephew who is raising two daughters on his own. TC accepts a job as a driver for the town, taking people wherever they need to go. This is how he gets to know Genevieve Gibbs, a woman who doesn't drive, and who is coming into her own after a 40-year disastrous marriage.

By bringing new characters to town, Jenkins introduces the reader who doesn't know the history of Henry Adams to the strong and interesting people who live there. Each book also shines on the former foster children, now adopted, showing their friendships and family relationships.

I love how this series is known as the Blessings series. The characters know they are blessed, and the reader feels blessed, too.
From PCN:
Lily and the Octopus by Steven Rowley (Simon & Schuster, June 7)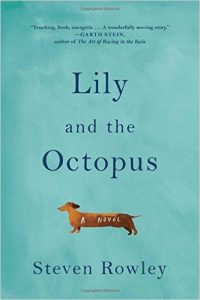 One day in March I received this book with no accompanying press materials to indicate what it's about. There was only a slip of paper inside saying the less I knew about this book, the better, but it guaranteed I'd laugh and cry. And curse. I was intrigued.
Inside the front cover was a letter saying the manuscript landed in the editor's inbox unsolicited and unagented, but a week later, Simon & Schuster had bought it and made it a lead title for this year. Again, no details or synopsis because "it wouldn't do the book justice." Fine. I dove in.
And found the editor and publisher and marketing team were right. It's best not to know much before reading this book, but read it you should. I did the hiccuping, noisy cry, alarming Mr. PCN (I made him read it, too, so he'd understand), but I also laughed a lot. The story is very funny. And wonderfully weird.
Rowley is a lovely storyteller and astute observer of life, and he will take you on an emotional, existential journey you didn't even know you were looking for.
What's on your reading list this month?