I'll be having a birthday soon, which means I'll have to confront something on my list of fears. This year's challenge: spring cleaning. [Insert horror scream here.] I think I'll read a book instead and hope the house elves come in the night to take care of the cleaning.
Here are the April releases we recommend for when you need to avoid doing something else.
From Jen at Brown Dog Solutions:
Beartown by Fredrik Backman, trans. by Neil Smith (Atria Books, April 25)

I haven't done a very good job of hiding the fact I love Fredrik Backman's work. I've adored each of his previous three books published in the US, for their individual distinctiveness as well as their commonalities. But Beartown surpasses them all.

This time Backman takes a bit of a darker tone, and has an entire cast of protagonists as opposed to a central main character enhanced with supporting characters.

Beartown is a sleepy little village struggling in the economy. Jobs have left, but the town uses its hockey program as a reason to get up every day. Some residents are players or coaches, some former players and devout fans. This year, the junior team is positioned to go all the way to the championship. This could mean big things for Beartown: a hockey academy, a new arena, population growth. But a fateful night shakes the entire town and more than just the championship dreams could be extinguished.

Even though Backman's tone is darker and graver than before, he still employs his smart wit and insightful perspective. Dialogue is sparse but sharp and the characters are brilliantly authentic.

One needn't be a fan of hockey to love this book. Backman uses the sport as a vehicle for his rich themes, but it could have easily been replaced by any other sport…or community focus. Beartown is a universal tale of humanity—its strengths, weaknesses, beauty, and hideousness. Once again, Backman has stolen my heart with his larger-than-life tale of the common man.

Climate of Hope: How Cities, Businesses, and Citizens Can Save the Planet by Michael Bloomberg and Carl Pope (St. Martin's Press, April 18)

Conservative former New York City mayor Michael Bloomberg and liberal former Sierra Club executive director Carl Pope teamed up on this book to show how efforts to save the planet are not only environmentally productive, they're economically productive as well.

These two leaders look at the individual parts of climate change and offer solutions to the smaller parts, not one idea for the entire issue. They illustrate how this makes it more manageable as well as profitable. And they emphasize the need—and plausibility—for local governments, businesses, and citizens to take on these tasks instead of waiting for change from the federal government, especially in the current political climate.

The two men alternate chapters, addressing topics such as renewable energy, housing, food, and transportation. They don't agree on everything, but Climate of Hope is a beautiful example of how progress can be made despite partisan differences.

It's enlightening, motivating, and accessible, and should be required reading: for the good of the planet, the good of the people, and the good of the economy.
From Erin at In Real Life:
Ragdoll by Daniel Cole (Ecco, April 4)

This is one of the best debut novels I've ever read. The story opens with a detective, William Fawkes—or Wolf, as he's known—with a sketchy past being pulled into a case involving a corpse comprised of stitched-together parts from six different bodies.

Pretty gross, right? Only, it's not. This character-driven story is told with a respect for the victim that's almost eerie. It's not gratuitous. It is descriptive, but gracefully so.

Wolf and his backstory are at the center of the mystery of The Ragdoll (as the corpse is called), but the supporting cast—Wolf's police colleagues, his TV reporter ex-wife and her colleagues, the victims and their families—makes this tale one to remember. As they each play their part in figuring out who the six victims are and what connects them, the urgency around catching the killer is palpable. Daniel Cole wastes no words; perhaps his former life as a paramedic honed his ability to vividly communicate just enough information.

Ragdoll is the first in a series; Cole's publishing contract includes three books. If what comes next is anywhere near as good as RAGDOLL, readers are in for a wonderfully wild ride.
From Lauren at Malcolm Avenue Review:
Resurrecting the Shark: A Scientific Obsession and the Mavericks Who Solved the Mystery of a 270-Million-Year-Old Fossil by Susan Ewing (Pegasus Books, April 4)

Heads up, shark and adventure nerds! Resurrecting the Shark is the story of the people who came together over the course of about a hundred years to solve the mystery of a 270-million-year-old fish fossil.

Now known as Helicoprion ("spiral saw"), this paleozoic shark has a two-foot-tall whorl of teeth sitting midline in its lower jaw like a circular saw, making Sharknado feel like staid Sunday programming. The fossil became a passion project in geology, taxonomy, paleontology, and the arts, from Australia to Russia to the United Sates.

Resurrecting the Shark is the compelling story of how it was ultimately determined what the fossil was, what it looked like, how it ate, how it lived and where.

Goodbye, Things: The New Japanese Minimalism by Fumio Sasaki (W. W. Norton & Company, April 11)

The minimalism movement has become quite popular lately, but Japanese editor Fumio Sasaki's story of how he found greater happiness by giving up his possessions is more than just another piece of grist for the mill.

Sasaki shares his process (getting rid of just about everything, including his bed) and the emotional transformation that resulted. It's a very personal journey, but the ideas and concepts are presented in a way that is both motivating and adaptable. Including photos and a list of tips, the book is physically beautiful (and minimal), as well as a fascinating read.

[Editor's note: I need Fumio Sasaki to come to my apartment.]
From Patti at Patti's Pens & Picks:
Song of the Lion by Anne Hillerman (Harper, April 11)

It makes me happy that Ms. Hillerman is continuing her father [Tony]'s series with Joe Leaphorn, Jim Chee, and Bernadette Manuelito. I like the marriage of Bernadette and Jim, and I love that Bernadette has a strong lead role in Ms. Hillerman's books. I also like the respect that Bernadette and Jim have for Joe Leaphorn, and that they consider him a mentor.

In Song of the Lion, a bomb goes off in the parking lot of a high school, bringing another situation to light. How these two situations connect is a darn good story. Recommended!
From PCN: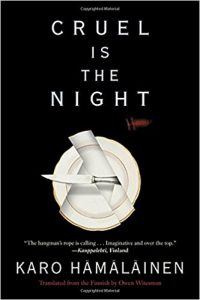 Cruel is the Night by Karo Hämäläinen, trans. by Owen Witesman (Soho Crime, April 11)
Four friends sit down to dinner one evening in London, but some or all of them might end up dead before the night is over.
As the meal progresses, everyone gets more drunk and their true feelings for each other emerge, resulting in all-out violence. There's even a sword involved.
Cruel is disturbing and darkly humorous, and fast-paced enough that you can probably devour it in one bite.
What are you reading this month?