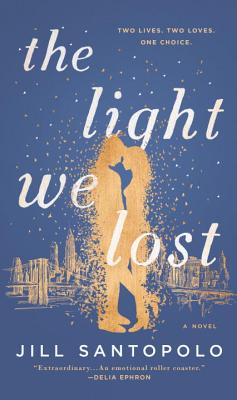 Lucy and Gabe met as Columbia University students on 9/11, when emotions were running high and "our shields were down." After spending a very intense day together, however, Gabe reunites with an ex, and Lucy doesn't see him again until graduation, and it's only for a brief moment.
Almost a year later, they run into each other once more, and this time they embark on a passionate relationship. But their desire to effect positive change in the world—a yearning sparked by what they witnessed on 9/11—means career choices that won't allow both to stay in Manhattan. Gabe goes overseas and Lucy meets someone else, but they keep in touch through life changes big and small, wondering if they've made the right decisions and what their dreams may have cost them.
Spanning 13 years, Jill Santopolo's The Light We Lost is a beautiful, thought-provoking exploration of life choices, and how attaining one's dreams can be euphoric and gut-wrenching at the same time. Lucy and Gabe's love is both idealistic and realistic; Santopolo puts them in situations where there are no easy answers. Should one choose a dream job offer or true love? Who must do the sacrificing or compromising? If you know a relationship would be once in a lifetime but finite, and soul-crushing when it ends, would you jump in anyway?
Don't read the promotions comparing this to other popular novels, for that might spoil the ending. But even if that happens, the emotional journey is worth it.
This originally appeared as a starred review in Shelf Awareness for Readers and is reprinted here with permission.