Summer is almost over and I'm relieved because I'm melting. But I've had more excellent reads this summer than I did in the past few years, and many of the standout books are August releases.
Here are our recommendations this month.
From Jen at Brown Dog Solutions:
Ghost of the Innocent Man: A True Story of Trial and Redemption by Benjamin Rachlin (Little, Brown; August 15)

In a troubling look at the rape conviction of Willie J. Grimes, little justice is found in the American justice system.

When Grimes was convicted, his lawyer believed him innocent. When the North Carolina Prisoner Legal Services examined Grimes's case, they too believed him innocent. When he was referred to the Center on Actual Innocence, they believed he was innocent. But no one could help Grimes because the process was never deficient; the jury simply made the wrong determination of guilt.

Ghost of the Innocent Man is nonfiction that reads like the most heart-pounding of thrillers, and that makes it all the more terrifying. (Read Jen's full review at Shelf Awareness.)

Pablo and Birdy by Alison McGhee, illus. by Ana Juan (Atheneum/Caitlyn Diouhy Books, ages 8-12, August 22)

This sweet, mystical realism middle-grade book about an orphan and his pet parrot examines the theme "the winds of change mean fortune lost or fortune gained." As the almost-ten-year-old Pablo discovers when he goes in search of the truth about where he came from, it isn't always easy to tell when what's been lost and what's been gained.

Packed full of rich characters, an intoxicating island setting, and an enchanting myth about a seafaring parrot that knows all the words of the world, this heartwarming novel will have readers searching for the seafarer and craving elephant ear pastries.
From Rory at Fourth Street Review:
If the Creek Don't Rise by Leah Weiss (Sourcebooks Landmark, August 22, 2017)

Sadie Blue is seventeen, pregnant, and a Loretta Lynn super fan. She's also an abused newlywed at the end of her rope. Living in the impoverished Appalachian community of Baines Creek, Sadie is supported by many of the small town's inhabitants.

Told from multiple perspectives, Leah Weiss' debut novel paints a portrait of a struggling town filled with struggling people. Colorful characters and a unique voice make this a standout debut. If the Creek Don't Rise is an excellent example of gritty, southern fiction with a dash of hope.
From Lauren at Malcolm Avenue Review:
The Party by Elizabeth Day (Little, Brown; August 15)

Three weeks following a party at an upper-crust British vacation estate, one attendee is in critical care and Martin Gilmour is undergoing police questioning.

Through Gilmour's interrogation, Day unravels the dynamics and history of two couples linked by the husbands' longtime friendship. Sociopathy, class structure, devotion, and betrayal all play a part in the evening's spiral into a moment of violence.
From PCN:
The Blinds by Adam Sternbergh (Ecco, August 1)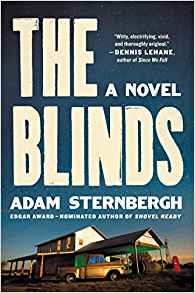 Calvin Cooper is the sheriff in an isolated Texas town full of people who are starting over after they either committed a violent crime or witnessed one. But since the residents have had their memories entirely or partially erased, they don't know if they're innocents or killers. Things go well for 8 years, until people start getting murdered.
The Blinds defies categorization with its unique blend of Western, sci-fi, dark humor, and examination of fate and human nature. I normally don't even like Western or sci-fi, but this blistering, unpredictable novel moved me with its moments of beauty among life's brutalities.
What are you reading this month?