Even though it's not summer yet, I was inundated with May books that seem intended to be read in one sitting, as if we're on vacation or something. And if we're not, we'll just have to say bye-bye to sleep. We had so many good books, Mr. PCN wanted to jump in with his own recommendation.
I'mma shut up now so y'all can start reading the following pronto.
Rory at Fourth Street Review recommends:
The Mars Room by Rachel Kushner (Scribner, May 1)

Romy isn't quite sure where she went wrong. Now serving two consecutive life sentences, Romy examines her choices, starting in her wild and neglected childhood, and how her choices may not have been choices at all.

Rachel Kushner's The Mars Room is a remarkable novel about life in prison, life leading up to prison, and those that cross the path of prisoners—fellow inmates, a well-meaning GED teacher, police officers, and lawyers involved in the justice system.

It's difficult to do justice in so few words to this hard, humane novel, but it's a thoughtful, nuanced story of the circumstances that make up an entire life.
Lauren at Malcolm Avenue Review recommends:
Amateur Hour: Motherhood in Essays and Swear Words by Kimberly Harrington (Harper Perennial, May 1)

I admit it—I was sucked in by the promise of swearing. But there is much more to Kimberly Harrington's essays than motherhood and swearing, and you don't have to be a mother or a swearer to enjoy the hell out of them.

Harrington is caustically funny, and her satirical pieces are spot on. Her more serious essays, however, are where she truly shines. The order of the pieces seems to have been done by Satan, as a hilarious piece on the rules of trying to write with kids at home (if there's no blood, don't interrupt) can be followed by a devastating essay on marital troubles.

Whether funny or serious-funny, Harrington bares her emotions and evokes the same from her reader. Smart and sarcastic, varied in form and substance, this collection is a true gem.

The Lonely Witness by William Boyle (Pegasus, May 8)

A young woman administering communion to house-bound parishioners sends her already spinning life off on a dangerous trajectory when she begins following a mysterious man.

Elderly Mrs. Epifano tells Amy Falconetti her caregiver's son has recently been showing up in her place and hiding in Mrs. E's bedroom. Amy can't help but get involved, and it's not the first time she's trailed a potentially dangerous man.

The Lonely Witness's first half is a knockout character study, followed by a volatile, action-packed second half. Boyle's love of character and place shines though in this gritty noir chock-full of ambiguous morality and loyalty.
Erin at In Real Life recommends:
How It Happened by Michael Koryta (Little, Brown, May 15)

How It Happened starts with a question: How did the young couple wind up dead? The answer appears simple to some, but leads to more questions at the dark heart of a rural Maine community.

FBI investigator Rob Barrett is all in to find answers, but the more he searches, the further he seems to get from the truth, and as more people are pulled into the vortex of this mystery, it's unclear whether we'll ever know the answers.

This is Koryta's masterful storytelling at its very best.
Buy it now
Guest recommendation from Mr. PCN:
He by John Connolly (Quercus, May 1)

The first page of this departure from Connolly's Charlie Parker series is a photocopy of a Los Angeles court document. It signifies a name change from Arthur Stanley Jefferson to Stan Laurel. For the rest of the novel, Laurel, one half of the legendary comedic duo Laurel and (Oliver) Hardy, is referred to only as He.

In short, poetic chapters, Connolly reveals a complicated artist journeying from vaudeville to silent film to starring in talking pictures. Laurel's contemporaries included Buster Keaton, Fatty Arbuckle, and the great Charlie Chaplin, which should solidify this novel as a film archivist's dream.

Thanks to Connolly's ability to peel back the layers of a person, fictional or otherwise, this story of good, bad, and necessary choices speaks to the triumphs and heartbreaks experienced by everyone treading this stage called life.
PCN recommends:
Calypso by David Sedaris (Little, Brown, May 29)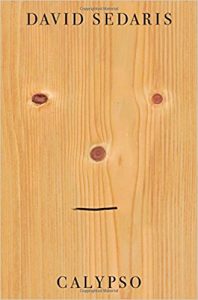 My favorite humor essayist is back with this collection that finds him musing on mortality, as he's nearing the age his mother died of cancer, and still processing the suicide of his sister Tiffany.
But if anyone can make you laugh about death, it's Sedaris, who writes about family vacations at the beach house he bought (which he named the Sea Section), shopping for clothes with his sisters Gretchen and Amy ("Everything looks as if it has been pulled from the evidence rack at a murder trial"), and struggling with his softening feelings toward his ninetysomething father, with whom Sedaris has always had a difficult relationship.
Laughter may not solve everything, but Sedaris shows it sure can help make life more tolerable.
What are you excited to read this month?