Summer is here so that means packing 5 books for every 1 day of vacation you take, right? Consider stuffing the following titles into your over-the-weight-limit bags!
Jen at Brown Dog Solutions recommends:
Us Against You by Fredrik Backman (Atria, June 5)

In this emotional sequel to Beartown, Fredrik Backman picks up with the small, struggling city as the citizens try to rebuild their beloved hockey team amid violence, deceit, and hate.

Backman's complex plot illustrates how the club touches lives in every corner. Using hockey merely as the tool, he tells a story of humanity in all its beauty and foibles. His language is poetic, his approach often humorous, and his understanding of mankind astounding.

Simultaneously heartbreaking and uplifting, Us Against You takes Backman to new heights. Readers needn't have read Beartown first but spoilers are present here.

White Fragility: Why It's So Hard for White People to Talk About Racism by Robin DiAngelo (Beacon Press, June 26)

Antiracist educator and author of the term "white fragility," Robin DiAngelo succinctly explains white people's defensive reactions and how they impede necessary discussions about race.

She illustrates how racism is everpresent in our culture and even well-meaning people perpetuate the problem. Being more aware of this fact and open to it is the first step in enacting real change.

DiAngelo is tactful but honest, explaining that the discussions and actions are uncomfortable, but trying to make them otherwise only exacerbates the problems. White Fragility can be eye-opening for those willing to take a close look with DiAngelo.
Rory at Fourth Street Review recommends:
Florida by Lauren Groff (Riverhead, June 5)

I love short stories. Possibly more than novels, which, if you'd asked ten years ago, I would've said was impossible.

When I saw the new work from Lauren Groff (author of the phenomenal Fates and Furies) was a collection of short stories set in Florida, I was thrilled. Florida is dark, oppressive, full of dread—an "Eden of dangerous things"—everything I hoped it would be.

Groff captures the gritty essence of the state. The stories are rich in characters, atmosphere, and perils of the natural world. This collection makes a wonderful addition to Groff's work and a great pick for your summer reading list.
Lauren at Malcolm Avenue Review recommends:
On the Java Ridge by Jock Serong (Text Publishing Company, June 12)

Jock Serong's On the Java Ridge is devastatingly brilliant and the best work I've read this year. I cried. Twice. I am not a damn crier.

As two Indonesian-built sailboats head toward Australian waters, the government announces a new policy: no unidentified vessels will be offered maritime assistance. One boat is a charter full of white tourists on a surf trip; the other packed with asylum seekers.

The two boats cross paths to disastrous effect on the eve of federal elections, making the political maneuvering even more gut-wrenching.

Java Ridge is a grueling mix of high-octane action, life-and-death politics, and, at its heart, a haunting portrayal of worldwide refugee crises.

Sex and the City and Us: How Four Single Women Changed the Way We Think, Live and Love by Jennifer Keishin Armstrong (Simon & Schuster. June 5)

Armstrong is becoming perhaps our greatest television historian, following Mary and Lou and Rhoda and Ted and Seinfeldia. She is now taking on the HBO blockbuster Sex and the City.

Armstrong's insight is fascinating. This is an in-depth look at how four single women in New York changed the pop culture landscape and countless lives across gender and sexuality spectra. The show caused ripples in ways I never even imagined, and anyone interested in the influence of television will find this book meticulously researched and engagingly written.
PCN recommends:
The Word Is Murder by Anthony Horowitz (Harper, June 5)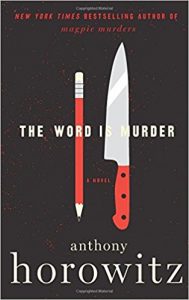 A woman walked into a mortuary to plan her own funeral, and hours later was murdered in her home. Wha? Did she know she'd be murdered? Or was it a freak coincidence?
Whatever your guess, it's likely wrong. In this clever meta novel, the author, using real-life details, makes himself a lead character, a modern-day Watson to a prickly Holmesian (fictional) detective who investigates the woman's death.
Murder is a mind-sharpening mystery, and fans of Horowitz's TV and film work (Foyle's War, Injustice, etc.) will enjoy the Easter eggs.
What are you reading this month?