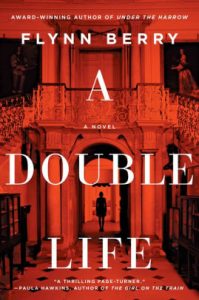 Claire is a young London doctor, living a solitary life that consists of work and little else. Then a detective inspector comes to her door and says simply, "There's been a sighting."
Claire doesn't need to ask of whom or what; she knows the DI is referring to her father, who is wanted for an almost 30-year-old murder and has been missing since.
While she braces herself for confirmation that the man in Namibia is her father, A Double Life moves back and forth in time to show what happened the night of the killing. The story also reveals that Claire can no longer accept waiting for the answers she feels her father owes her, and that she's willing to cross dangerous lines to finally get them from him.
Flynn Berry's follow-up to her Edgar-winning Under the Harrow is less a thriller than an examination of the psychological toll of violence on a family, specifically children. Claire doesn't date and has changed her name—from Lydia—to avoid being linked to her father, and her younger brother fights addiction. Even though he was only a baby when the murder happened, it occurred in their family home and who knows what he absorbed? "Robbie looks like our father. Sometimes I wonder if that's why he mistreats himself. It's the only act of revenge he can take."
Readers looking for plot-heavy stories might find Life slow going in parts, but Berry's nuanced prose and complex characters leave a mark with their quiet suffering.
This review originally appeared in Shelf Awareness for Readers and is reprinted here with permission.