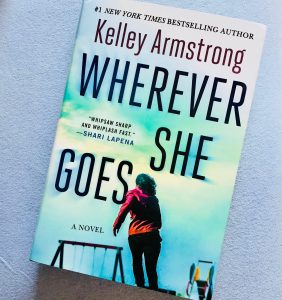 While playing with her daughter in the park one day, Aubrey meets a little boy and his mother. Days later Aubrey sees the boy again—being dragged into an SUV and calling for his mother, who's mysteriously absent. After the vehicle peels away, Aubrey files a police report, but no one believes her.
Because no one has reported a missing boy.
Aubrey fears the mother is dead, but she's dismissed by police and the media as an attention seeker. Attention is the last thing she wants, however. She's been living under an alias, hiding from her past. But as a mother, she can't ignore what she saw, knowing a child has been abducted with no one looking for him. She sets out to find him herself, confronting not only very bad people but ghosts from her tragic childhood.
As usual with Kelley Armstrong's books (This Fallen Prey, A Darkness Absolute), the standalone Wherever She Goes starts with a bang, and maintains a steady pace. Aubrey has shades of Detective Casey Duncan from Armstrong's Rockton series; she's far from perfect, even borderline criminal, but she's righteous and sympathetic and never one to bet against.
While she searches for the boy, Aubrey is also dealing with the dissolution of her marriage, struggling to make the right decisions so her daughter won't be taken away from her. Her relationship with her husband is complicated but refreshingly mature, heading in surprising directions. Armstrong's characters aren't superhuman, simply regular people who rise to the occasion in extraordinary circumstances.
Want more content? Follow me on Instagram and Facebook.
This review originally appeared in Shelf Awareness for Readers and is reprinted here with permission.