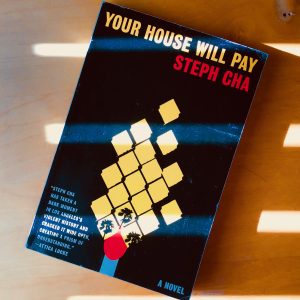 On March 16, 1991, 16-year-old Ava Matthews walked into a Korean-owned convenience store in South Central Los Angeles to buy milk.
A scuffle ensued when the owner thought Ava was stealing, and Ava ended up shot in the back of the head, bleeding out on the floor with two dollars in her hand. Her younger brother, Shawn, witnessed the entire incident, which was caught on tape, but the owner/shooter received only probation and no jail time.
In 2019, 27-year-old Grace Park is still living at home with her parents and working in the pharmacy they own. She's the dutiful daughter, while her older sister is estranged from their parents for reasons unknown to Grace. One day something catastrophic happens, forcing Grace to reckon with the terrible secrets her family has kept from her.
Steph Cha's Your House Will Pay is based on the true story of Latasha Harlins, a teen shot dead in 1991 in a Korean-owned store. The fallout is believed by historians and Angelenos to have helped spark the L.A. riots the following year.
In chapters alternating between 1991 and 2019—and between Shawn's and Grace's perspectives—Cha peels back the layers of incendiary race relations in a city with people who can suffer only so much injustice. The Matthews and Park families, on opposite sides of the central conflict, are both depicted with deep insight and empathy—and their flaws intact.
There are no villains or heroes, only humans whose paths collided one tragic day and are still paying for the damage done. The ending is a bit abrupt, but it offers hope that healing and forgiveness can begin.
This review originally appeared in Shelf Awareness for Readers and is reprinted here with permission.