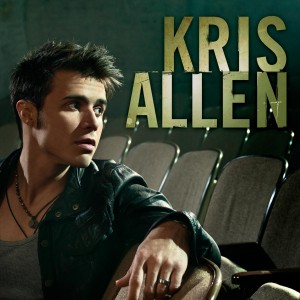 When Kris Allen was on American Idol, it took him a while to make an impression on me. He didn't stand out at first but then he started making bold choices like acousticizing Kanye West's "Heartless." By the end, I was voting for him over the louder Adam Lambert.
His album, titled Kris Allen (dropping Tuesday), is a mixture of low-key and rousing numbers, resulting in a package that's pleasant enough even if none of the tunes really stuck with me. His voice is in good form, aching and cracking on ballads like "I Need to Know," rocking on the energetic "Alright with Me" (the disc's most catchy tune) and "Can't Stay Away from You," and a bit smoky on "Heartless."
Allen co-wrote nine out of the thirteen tracks, alternates between playing the guitar and piano so he's certainly talented. But even after multiple listens, I had a hard time telling one track from the next (except for the aforementioned ones) and identifying which cuts would make good singles. It's more like a collection of songs that blend well together and would make nice background music at a party. Though well-crafted, the album is as modest as its namesake.
Nerd verdict: Pleasant enough tour through Allentown if nothing to write home about