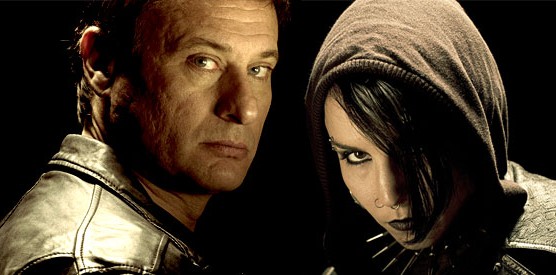 Even though I looked forward to seeing The Girl with the Dragon Tattoo, I held on to a small amount of skepticism so I wouldn't be too disappointed if it turned out crappy. I'm happy to report the concern was unwarranted. The movie is exactly as I wanted it to be—a tight, tense thriller which stays faithful to Stieg Larsson's book while bringing Lisbeth Salander, the extraordinary character at its core, vividly to life, hot as the fire she plays with.
The movie strips away a lot of exposition at the beginning of the novel by jumping right into the plot of an old wealthy businessman, Henrik Vanger, summoning disgraced journalist Mikael Blomkvist to his estate to look into the 40-year-old disappearance of Vanger's niece, Harriet. Salander, tattooed girl and brilliant computer hacker, does the background check on Blomkvist for Vanger but continues to secretly track the writer's progress in the case even after her job is done. When she finally reveals herself by e-mailing him an important lead, the two team up to solve the mystery, one much more deviant and deadly than they imagined.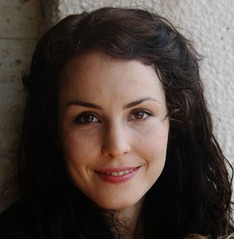 Reading the book, I thought it might be impossible for any actress to do justice to Lisbeth, who's punked out, idiot savant-y, waifish, ferocious, antisocial, and unpredictable but utterly captivating. It's amazing, then, to see how spot-on Rapace is, nailing all of Lisbeth's complexities, disappearing completely into her skin (in real life, Rapace is much softer looking; she shaved her hair and got multiple piercings for the sake of authenticity). Even though Lisbeth doesn't speak much, her thoughts and emotions come out through Rapace's eyes, telling us what pages of dialogue probably couldn't. Whoever takes over this role in the American remake has giant shoes—or rather, black leather shit kickers—to fill.
Everything else in the movie also comes pretty close to my mental pictures, including Michael Nyqvist as Blomkvist and the violent scenes between Lisbeth and her sadistic legal guardian. Yes, they are disturbing to watch, but they are necessary to depict Larsson's original title for this book, Men Who Hate Women, and director Niels Arden Oplev doesn't linger on them any longer than Larsson did. Several subplots are pared down or eliminated altogether, but I didn't miss them, nor did I feel the movie's two-and-a-half-hour running time.
Nerd verdict: A dark, striking Tattoo.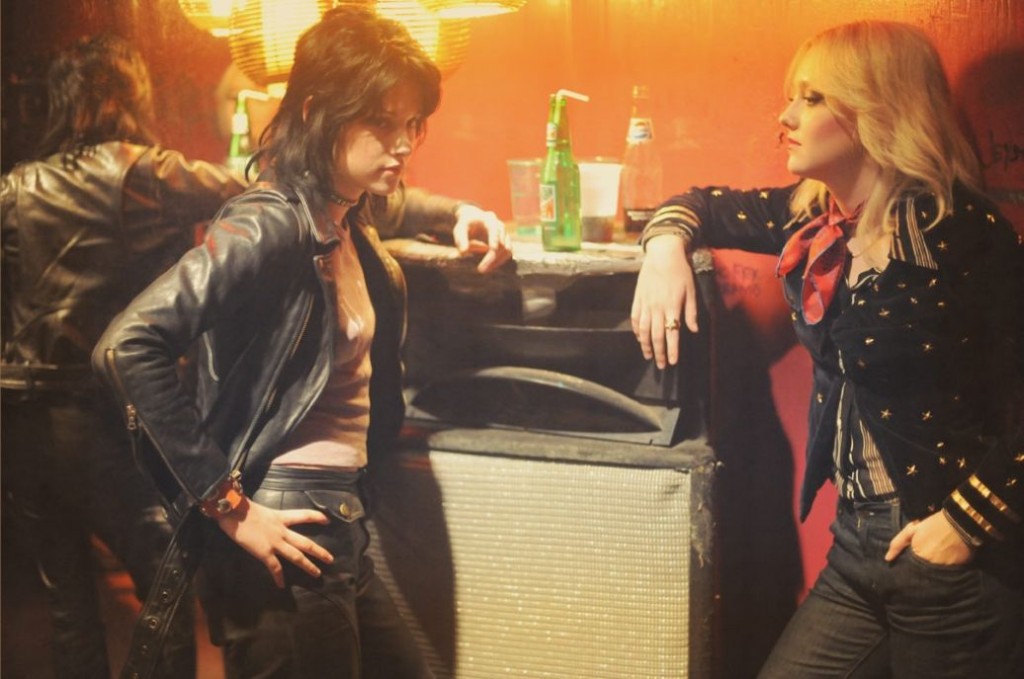 The other movie I saw this weekend, The Runaways, about the rise to fame of the eponymous all-girl band in the '70s, could've taken a lesson or two from Lisbeth when it came to exuding real girl power. Instead, Kristen Stewart as Joan Jett and Dakota Fanning as lead singer Cherie Currie come across as blank little dolls putting on a tough act with no growl behind it. This isn't their fault; both are fine actresses who were failed by an inadequate script and director Floria Sigismondi, who focused more on music-video-style flash than character development.
The movie starts with Jett buying a leather jacket right off a man's back in a store and telling record producer Kim Fowley (Michael Shannon) at a club she's going to form a band with only girls. Once Fowley plucks Currie's jailbait blondness out of the crowd to front the band, however, the focus shifts away from Jett, which is a major misstep. Since Currie quickly disappeared from the spotlight, I didn't care about her story; it's like asking me to be invested in what happened to the lead singer of, say, Kajagoogoo. Jett had huge success post-Runaways and is still touring and making music today. I want to know what makes her tick but the movie gives me no clue.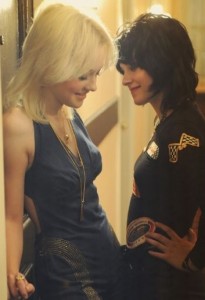 Stewart, with her jet-black shag, has Jett's looks down cold (she's rumored to head Sony's list to play Lisbeth) and probably could've done more for the movie if she'd been given a story arc along with a guitar to play. Fanning, on the other hand, should've just said no. She tries hard but is too soft to make a convincing sexpot, punk-rock singer. She's not dirrty enough. The romantic scenes between her and Stewart, perhaps meant to be provocative or edgy, are simply confusing because it's never clear what kind of relationship they had. Similarly confounding is how Lita Ford, the band's lead guitarist who went on to have a few hits as a solo artist, wasn't even mentioned in the where-are-they-now end notes. Not only couldn't the film be bothered with its characters' backstories, it left out their future stories, too.
Nerd verdict: Stay away from Runaways.