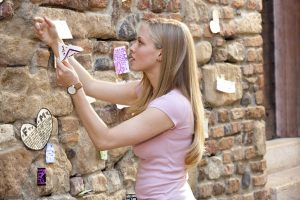 Letters to Juliet (opening Friday, May 14) is like a chocolate truffle—a little too sweet, delicious-looking but not that filling.
Sophie (Amanda Seyfried), a fact checker and aspiring writer at The New Yorker, takes a pre-honeymoon to Verona, Italy with her fiancé, Victor (Gael Garcia Bernal), since it's the only time he can spare before the opening of his restaurant. Victor is immediately caught up in finding the perfect truffles and wine for his restaurant, leaving Sophie alone to explore the town and Juliet's house. There she finds letters taped to the wall, messages from women asking Juliet for advice, romantic and otherwise. Sophie also meets a group of women who answer these letters, calling themselves secretaries of Juliet.
After finding a letter from 1957 written by a Claire Smith (Vanessa Redgrave) about her lost love Lorenzo Bartolini, Sophie writes the woman back, encouraging her to find him. Soon, Claire shows up with her impatient grandson, Charlie (Christopher Egan), and the three set off to visit all the Lorenzo Bartolinis within a certain radius to see if The One is among them (a montage with several different Lorenzos is quite amusing). Along the way, the annoyance Charlie and Sophie feel for each other develops into something else.
The main reasons to see this movie are the resplendent Vanessa Redgrave—she practically radiates light on screen—and the gorgeous Italian scenery. Redgrave elevates the material with her mere presence, giving it an elegance it may have lacked otherwise. It's because of her I found my eyes wet at one point.
The sun-drenched Verona and Siena vistas are another major draw, at least for me, since I went there several years ago and this was like my travel album coming alive but with better pictures. If you've never been, it'll serve as a beautiful primer and/or inexpensive virtual vacation. You'll want to eat Italian food afterward, drink Carpazo wine and take a long drive in the countryside.
Seyfried makes a plucky enough heroine, crying beautifully when required, but there's nothing especially appealing about Egan. The two generate more heat when they're bickering than when they have to look at each other with moony eyes; their reversal of feelings seems rushed to me. Despite their lead billing, their story doesn't have the emotional resonance of Claire and Lorenzo's affair. Claire's true love is played by Franco Nero and, interestingly enough, the cinematic story mirrors the two actors' real history. After beginning a romance over 40 years ago, Redgrave and Nero separated then reconnected and married less than four years ago. Art imitates life, indeed.
Nerd verdict: Letters not first class, but visually pleasing
All photos by John Johnson/Summit Entertainment