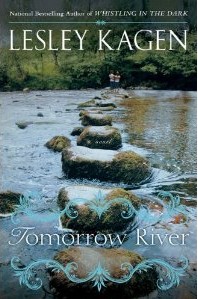 I had a lump in my throat most of the time while reading Lesley Kagen's Tomorrow River because it's such a heartbreaking story, but when the lump burst open at times, I found myself laughing instead of crying. And that's what makes this book exceptional: It zigs right when you think it's zagging left, it's love-affirming when you think it can hurt you too much.
The story takes place in 1969 in Virginia's Shenandoah Valley where the Carmody clan lives. Twelve-year-old Shenandoah AKA Shenny, named after her birthplace, narrates as she tries to find her mother who disappeared a year ago. Since then, Shenny's twin sister Woody has gone mute and their father, a judge and the most respected man in town, has turned into a mean drunk. Shenny's convinced that if she can just bring home Mother, her family will be loving and whole again.
Her attempts are hindered by her father forbidding the girls from leaving their property (perhaps to prevent them from vanishing, too), occasionally locking them in the root cellar if they disobey and sneak into town. The judge is also threatening to remarry and send Woody away to an institution if she doesn't start speaking again. With the help of her friend E.J., Shenny eventually finds the answers she seeks, but realizes that she and her family will never be the same.
Though the story sounds grim, Shenny's spunk will win you over. She knows she's at risk of losing everything but refuses to relinquish her sense of humor, too. She doesn't give in to self-pity because she can't afford to, being the glue that's barely holding her family together. Her resilience makes me ache for her more than if she were a weepy child. When you see a kid fall down but then try to be tough and not cry, it hurts more to witness than if she'd just bawl and get it over with.
Shenny's stubborn hope in her increasingly distant father is reflected in the following passage:
I gave his horse a bath and cleaned his guns and he never seemed to notice. I've offered many times to spend the night constellation searching. I remind him how the astronauts are going to the moon next month and how we were going to celebrate that historic event with a party. I slip notes under his study door. In them, I tell him how much I love him and ask if there's anything else I can do to comfort his heart….I sign the notes, Your beautiful daughter of the stars. I'm sure I'll hear back from him any day now.
That kills me. I wanted to scream at the judge, "Answer the notes, man!"
But as I mentioned, Shenny's plucky and funny, too. She describes the town punk thusly:
He's what you'd call the bad boy of our town. A regular James Dean minus the good looks. Remmy's built like a doorway, but his face is squashed in like he ran into a wall. And he doesn't hardly ever wear a shirt and won't care if you just about toss your biscuits looking at his spotty back. Worst of all? The boy's got red hair…like Clarabelle's and he's just as honking dumb. The kid could throw himself on the floor and miss.
Later she mentions he has "teeth that are buck enough to eat corn on the cob through a picket fence."
Kagen spins an ugly tale about family secrets using beautiful language, making it bittersweet. Her words effortlessly carry the reader to that specific time and place (I'm familiar with the area from attending college in Charlottesville) with a wonderful Southern rhythm that begs for the story to be read aloud. Kagen has also created indelible characters in Shenny and Woody, girls you want to throw your arms around and keep safe, allowing them to be children just a little while longer.
Nerd verdict: River runs deep