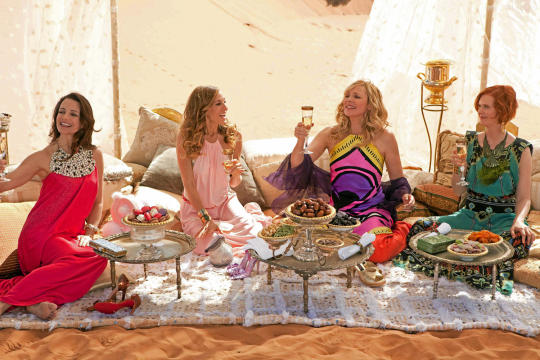 This is an escapist, girly movie—no getting around that. I went in not expecting it to remotely resemble my own life and ended up mostly enjoying the fantasy of the foursome's lives.
It's two years after the events of the first movie and the ladies have a new set of problems: Carrie is afraid she and Big are turning into a boring old married couple, Miranda isn't appreciated at work by her sexist boss, Charlotte's kids are driving her crazy, and Samantha's going through menopause. Conveniently, a sheikh offers Samantha an all-expenses paid vacation to Abu Dhabi to possibly engage her publicist skills to promote his luxury hotel and of course she wouldn't go without her girls. While there, the ladies shop, drink, play with fire, get arrested, talk about their issues before coming home with new insight and appreciation for their situations.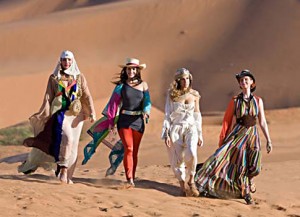 The movie's main attractions for me—no surprise—are the furniture and fashion porn. Big and Carrie live in a "little bit of heaven"—an impeccably decorated New York City apartment with a dream closet—and the women's outfits are so jaw-droppingly over the top that they sometimes made me laugh. But that's the way it should be; who wants to see them in Old Navy duds and Keds?
I also ogled the scenery (Morocco subbed for Abu Dhabi) and suddenly got the urge to ride a camel and/or Jeep over sand dunes. I love the friendship the characters have, how they'll always be each other's anchors. I enjoyed seeing Raza Jaffrey as Carrie's butler, Guarau. On MI-5, the actor plays a formidable agent so it was quite a change to see him as the gentle, wise Indian man. And Liza Minnelli channeling Beyoncé! She must've gone to the Tina Turner School of Legs Preservation. Go, Liza. SATC2 is lighter in tone than the first one, though some of the jokes are rather crude (one involves camel and toes).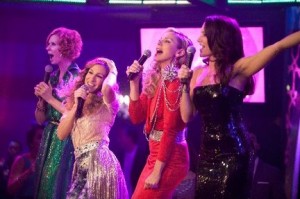 What I didn't like? Samantha repeatedly flouting Abu Dhabi's public dress laws by showing too much skin. I don't agree with how women are forced to wear burkas but if I choose to go there, I would obey the emirate's laws. Flipping off the men isn't liberating, it's disrespectful. Samantha claims hot flashes and hormonal changes as an excuse and Miranda does step in to talk some sense into her, but the scene smacks of arrogance. The ladies' karaoke rendition of Helen Reddy's "I am Woman" is also much too literal a declaration of girl power.
SATC2 certainly isn't perfect but it doesn't apologize for its fantasy elements, nor should it. It's a two-and-a-half-hour virtual vacation to an exotic locale, allowing you to bask in the sun and not worry about frying too many brain cells.
Nerd verdict: Frivolous City life