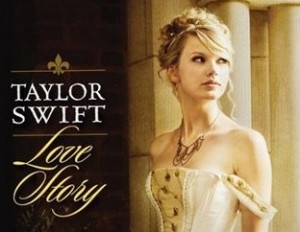 I was in the car today listening to the "Top 5 at 5" feature on a local radio station. Listeners send in lists of five songs they want to hear and the DJ picks one list to play at 5 p.m. Today's winner was someone named Adriana and her first 3 songs were:
Adam Lambert's "Whataya Want from Me"
Taylor Swift's "Love Story"
The Black-eyed Peas' "Let's Get It Started"
I didn't get a chance to hear her final two songs because I arrived at Trader Joe's and had to begin the back-breaking process of grocery shopping (the bags I hauled outta there were heavier than my car). But I realized the songs I did hear gave me clues to who Adriana might be.
I'd say she's in her early 20s because she's a Taylor Swift fan and still young enough to want to get a party started. When you get to a certain age, you want to shut them down. She's someone who would like to be a rebel like Adam Lambert but is really a sweet girl who's still looking for the right guy and her own big love story. She probably works 9-5 as an assistant in an office somewhere and having her favorite songs played on the radio helps make her commute home a little more pleasant.
Of course, I could be waaayy off—Adriana could be a 58-year-old divorceé who owns a tattoo parlor—but it was fun to play this little game. I'd like to think Adriana offered up a glimpse of herself, intentionally or not, and I was saying, "I hear you, girl." I then wondered what would be on my list.
Without thinking too much about it, here's what I would request in no particular order:
The Eagles' "New Kid in Town"
Israel "Iz" Kamakawiwo'ole's "Somewhere Over the Rainbow"/"What a Wonderful World" medley
Fleetwood Mac's "Don't Stop"
U2's "One"
Jason Mraz's "I'm Yours"
This list will most likely change tomorrow; heck, it might change in 20 minutes. But as it stands, what conclusions would you make from my choices (other than I'm old)? What would be your top 5 at 5?