Among my favorite stories of all time are the ones about Winnie the Pooh, Christopher Robin and the rest of Pooh's friends in the 100 Acre Wood. It never fails to make me cry when we get to the end and Christopher Robin tells Pooh he has to leave to go to another place where he won't be allowed to "do nothing" anymore.
And so I thought of them as I watched Harry Potter and the Deathly Hallows: Part 1 because Harry (Daniel Radcliffe), Ron (Rupert Grint) and Hermione (Emma Watson) are definitely leaving behind their 100 Acre Wood—Hogwarts—as they go on the run from Lord Voldemort (Ralph Fiennes) and his Death Eaters. They're also required to do much more than nothing to survive, being thrown from one dangerous situation to the next as suddenly as they're being thrust into adulthood.
*Spoilers Ahead*
An early scene sets the dark tone of the movie as Voldemort meets with Death Eaters to discuss grabbing Harry when he's moved from the Dursleys' home. There's something literally hanging over them that's awful to behold. Then Harry sets off with all the polyjuiced Harry doppelgangers as decoys but somehow Voldemort knows their plan and the gang is immediately under attack.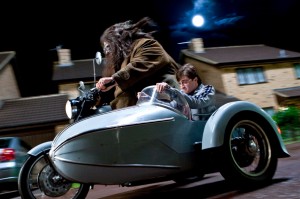 The aerial fight is quite spectacularly shot, with Hagrid's motorbike and sidecar being one of the coolest movie vehicles ever. It has a hyperdrive button! It spits flames! It gets Harry to safety but alas, can't help prevent the first fatalities of this installment.
And there's more heartbreak—I challenge you to be unmoved by Dobby—and danger as Harry, Hermione and Ron struggle to stay ahead of the Death Eaters while tracking down and destroying the rest of the Horcruxes. The movie is mostly filmed in bleak, low-contrast tones, with nary a sunny day for the trio to enjoy, whether literally or metaphorically.
But it isn't without levity, as flashes of humor make their way into some of the most intense scenes. Screenwriter Steve Kloves also created a very sweet moment of Harry and Hermione wordlessly dancing in their tent to a song on their small radio after Ron has abandoned them. Harry is trying to cheer up Hermione, seeing how despondent she is. It's not in the book but is a lovely addition to the movie, reminding me of the scene in Witness in which Harrison Ford dances with Kelly McGillis to Sam Cooke's "(What a) Wonderful World" in the barn. Its resonance comes from our knowledge they won't get to experience lightness again in the near future.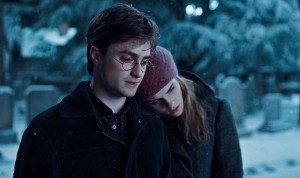 The dancing scene also makes clear something I felt about the books as well: Hermione has wayyy more chemistry with Harry than with Ron. Not that I want H and H to end up together (I don't; I like how their friendship remains pure) but I never sensed love bloom between Hermione and Ron either in the novels or this movie. Watson has zero chemistry with Grint, despite his making moony eyes at her. During a scene that's surprisingly, ah, adult for this PG-13 movie, Ron's greatest fears are presented before him and he sees H and H naked and making out like mad (it's not real). He's mortified, of course, but I thought if I had to, I'd rather watch that than Watson canoodling with Grint.
*End spoilers*
I didn't love the last movie, Harry Potter and the Half-Blood Prince, so I'm glad director David Yates has returned with a more assured hand, something he showed in Order of the Phoenix, his first outing with the series. I'm happy he'll be on board to take us home with the final installment next July. After this exciting first part, I don't know how I'll be able to wait until then.
Nerd verdict: Darkly exciting Hallows
What did you think? Do you want to see the final part in 3D?