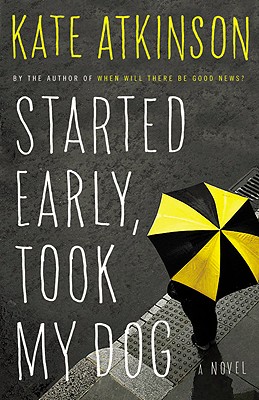 Though Started Early, Took My Dog is Kate Atkinson's fourth book featuring private eye Jackson Brodie, it's the first one I've read so I actually started late. But late is better than never and I'm happy to have finally met the investigator introduced in Case Histories.
Brodie is only one of the main characters in Started Early, with the others being a retired policewoman named Tracy Waterhouse who instinctively buys a four-year-old child from a woman she believes is abusing the little girl, and an older soap actress named Tilly who's slowly losing her memory. The story moves between their separate points of view and different time frames—it begins in 1975 and alternates between then and the present—until the characters' paths finally converge. The buildup is a little slow—Tracy's backstory is important while Tilly's past could have been abbreviated—but the pace accelerates once their storylines finally intersect.
Brodie, tracking down the biological roots of a client who had been adopted, is an immensely likable companion as he takes the reader through the countryside with him and his dog, which Brodie rescues from an abusive owner. How can you resist a dog described thusly?
[Jackson] spent some time drilling his new recruit on the beach—sit, stay, heel, come. The dog was pretty good. At sit its haunches dropped as if its back legs had been taken from beneath it. When Jackson said stay and walked away the dog might as well have been glued to the sand, its whole body quivering with the effort of not hurtling after Jackson. And when Jackson found a stick of driftwood and held it above the dog's head, the dog not only stood on its hind legs but even walked a few steps. What next? Talking?
Atkinson's wit is matched by her ability to squeeze the reader's heart with observations like the following, as Tracy warns the little girl to watch out for people who might want to snatch her back:
"Keep an eye out for a gray car," [Tracy] said to Courtney. Did kids her age know all the colors? Could the kid sing the whole rainbow? "Do you know what color gray is?"

"It's the color of the sky," Courtney offered.

Tracy sighed. Therapist would have a field day with this kid.
And Courtney's not the only child in peril in this book. "Started early" isn't just part of the title, it could be a comment on how early we can encounter misery in life, or how far back into the past we have to delve in order to understand our present. Though Atkinson leaves a few questions unanswered, this is a novel full of sharp observations about human nature and how it's never too late to do the right thing.
I'm definitely going to read the other Brodie books now and you can, too,* since the generous folks at Hachette are letting me give away five sets of the Brodie titles. Each prize package will include:
Case Histories (Trade)
One Good Turn (Trade)
When Will There be Good News (Trade)
Started Early, Took my Dog (Hardcover)
How cool is that? To enter:
leave a comment telling me what habit you started at an early age (mine is reading)
be a U.S./Canada resident (no P.O. boxes, per Hachette's request)
Giveaway ends next Wednesday, March 30 at 5 p.m. PST. Five winners will be randomly selected via random.org then announced here, on Twitter and Facebook. Winners will have 48 hours to claim prizes before alternate name(s) are chosen so make sure you check back!
* I never felt lost reading this book but have a feeling it contains minor spoilers from previous cases.