One of the reasons I love to read is to educate myself. There are books that entertain and examine the human condition and tell great stories but sometimes I'm attracted to something simply because it sounds foreign to me.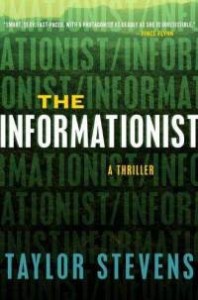 That's partly why I wanted to read Taylor Stevens's debut novel, The Informationist. It takes place in African regions I don't often hear about and has characters talking in a language I'd never heard of (Fang, anyone?). It also has an interesting lead character in Vanessa Michael Munroe, someone who's expert at extracting information from anywhere anytime. She sometimes disguises herself as a man—hence the middle name.
She's hired by Texas billionaire Richard Burbank to locate his daughter, Emily, who went missing four years ago while traveling in Africa, where Munroe grew up. She returns there with Miles Bradford, both a bodyguard and babysitter assigned by Burbank, to find answers but also to confront certain ghosts from her wild, violent past.
Munroe has been compared to Stieg Larsson's Lisbeth Salander in blurbs and I can see why: she's good with computers, rides a motorcycle, is antisocial, formidable in a fight, etc. But that's just PR shorthand because Munroe is her own person and I never felt that Stevens was aping Larsson. If the author was borrowing from anywhere, it seems to be from her own life. As I mentioned in this earlier post about authors' bios, Stevens had a peripatetic childhood during which she lived with a cult in two dozen countries (including Equatorial Guinea, where much of the novel's action takes place) and was denied education after the age of twelve. Munroe is resourceful and resilient in a way that I imagine Stevens had to be when she escaped from the cult. I'm probably projecting but when the novel comes with that kind of backstory, it's hard not to.
The prose can be a little melodramatic at times but the plot is smart, the action brutal, and the heroine as unconventional as the setting. You'll gain knowledge about a foreign world and in the end become a bit of an informationist yourself.
Nerd verdict: Savvy Informationist