*No spoilers*
When I read this article on Deadline.com yesterday that reported J.J. Abrams's Super 8 is tracking softly because he's being so secretive about it, I found it ridiculous. Moviegoers are supposedly not eager to see it because the writer/director won't reveal certain plot points or pictures of the creature? So they'd be more interested if the trailer gives away everything?
I attended an advance screening of Super 8 tonight and let me say: Abrams is doing the right thing. Go see the movie before too much chatter ruins it for you. It was the most fun I had at the cinema in a long time.
Set in 1979, it took me back to the summer flicks of my childhood, movies that were not in 3D or dominated by green-screen effects, entertainment that contained a good story, character development, and skillful acting—completely foreign concepts to the Michael Bays of the world. It's reminiscent of E.T., Stand by Me, and Jurassic Park, in that it's a coming-of-age tale about friendship and family but has lots of moments that made me jump, gasp, then titter as I anticipated the next thrill around the corner. (The big dude sitting next to me jumped so far out of his seat one time, he almost landed on top of me.) The train crash teased in the trailer is spectacular in a disaster-movie way, and Abrams knew exactly where to sprinkle witty lines among all the action and suspense.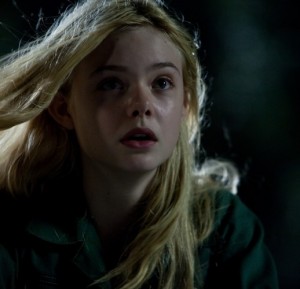 The movie is anchored by a group of young thespians so naturally gifted, they don't appear to be acting at all. Their friendship seems lived-in and their dialogue believable for middle-school kids who have known each other for years. The standouts are Joel Courtney as Joe and Elle Fanning as Alice. It's astonishing that this is Courtney's first acting gig. He can make you ache for him without saying anything, he can reveal Joe's heart without any Method-y business. Fanning should finally be declared a star in her own right. Kyle Chandler provides solid support as Joe's dad, a harried deputy sheriff trying to hold a small town together in the face of some weird goings on.
Holding it all together off camera is Abrams, who has obviously learned a thing or two from Steven Spielberg, one of Super 8′s producers. Thematically and stylistically, the movie is old-school Spielbergian (it even has a John Williams-ish score by Michael Giacchino) and is Abrams's best directorial effort to date. His strength here is in knowing when to hold back and when to reveal. And the place for the reveal is in a dark theater, not a trailer you watch on your Smartphone.
Nerd verdict: A 10 for Super 8
Photos: Paramount Pictures