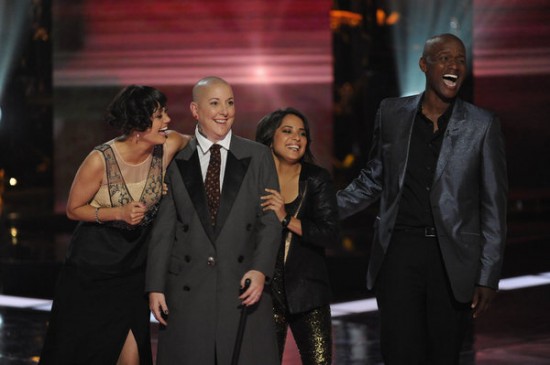 I went into the results show thinking I'd be okay if either Javier Colon or Dia Frampton won, because he has the best voice and she is most mesmerizing while performing. After his audition with "Time After Time," I had said to my husband, "Oh, fuggedaboutit. Just crown this guy now." But over the past few weeks, Dia became the one I rooted for.
Yes, the show is called The Voice and Javier definitely has a big, bold, beautiful one. The problem was his tendency to oversing. His coach Adam Levine advised him on when to hold back and when to let his emotions go, but Javier seemingly just wanted to rip into every note all the time like a lion on a fresh gazelle. He gives new meaning to the term, "He killed it." Dueting with Stevie Nicks tonight on "Landslide," Javier was on harmony but was so loud, he often drowned out Nicks on melody. She was a little flat and subdued but the song is supposed to be introspective. Nicks had to put her hand up to his face to literally conduct him to soften his voice or stop holding on to a note for three days.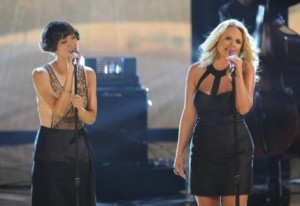 Dia's duet, on the other hand, with Miranda Lambert on "The House That Built Me" was understated and lovely. And I don't even like country. At times, Dia's voice dropped to a whisper but it felt like she was more focused on connecting with the lyrics than doing vocal gymnastics. I'll take emotion over volume any day.
But I'll admit I voted for her mostly because her coach Blake Shelton was so passionate about her. Frampton, er, Dia comes alive when she sings but when she's not, her shyness makes her inscrutable. Blake, meanwhile, wears his feelings for her all over his face.
Out of all the coaches, he has promoted and worked the hardest for his protegé, getting emotional every time she advanced to the next round. He and Lambert bought Dia the dress she wore on the finale when NBC deemed it too expensive for its budget. When choked-up Blake said to Dia "you are family to me now," you could tell he wasn't selling it for the cameras (unlike Christina Aguilera telling the guys they were the brothers she never had).
So if he vouched for Dia and thought she deserved the title, I voted for her. Yes, I wanted her to win but I wanted more for her proud coach to not be disappointed. There's a reason it's called Team Blake instead of Team Dia. A couple months ago, I wasn't even sure who Blake Shelton was (a doctor on General Hospital? baseball player? see above comment about not liking country). But he's been a revelation to me, displaying smarts, talent, genuine goodwill, and a wicked sense of humor. Now I'm listening to his "Honey Bee" and expanding my world. Go figure.
But my world hasn't expanded enough for me to think that Beverly McClellan's performance of "Good Life" with Ryan Tedder of OneRepublic made any sense. I think five minutes before the live show, producers had a conversation with McClellan that went something like, "Hey, you'll be dueting with that dude from OneRepublic." McClellan: "Okay. Does it matter if I don't know the song or who he is?" Producers: "Nope. Just jump around and have fun." McClellan: "Okeydoke." She and Tedder did look like they were enjoying themselves so let's just leave it at that.
Vicci Martinez fared better pairing up with Pat Monahan from Train to sing "Drops of Jupiter." I like her but the song is a little somber for her. I think she does best when she gets to bust out all her energy and just go to town, like she did on "Dog Days Are Over" and "Love is a Battlefield."
Ultimately, while Javier wasn't my top choice, I'm still happy for him because he seems like a really good guy who's got some serious talent. I hope he continues to work with mentors, though, who will help him make music that won't make me change the station.
Who were you rooting for? What did you think of the finale?
Photos: Lewis Jacobs/NBC