You might find the title Crazy, Stupid, Love an apt description of how summer flicks usually make you feel, but the movie itself can be described as Funny, Sexy, Sweet. All three adjectives also apply to the revelation that is Ryan Gosling, and I'm not just talking about his "Photoshopped" abs.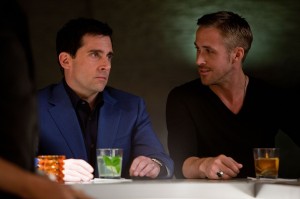 Steve Carell is Cal, married to his high-school sweetheart, Emily (Julianne Moore), who suddenly asks for a divorce. Devastated, he hangs out in bars, drinking alone, until he meets Jacob (Gosling), a sharp-dressed lothario who decides to Miyagi-ize Cal into a stud. Jacob also uses his own methods to pursue Hannah (Emma Stone), the only girl in the joint who doesn't instantly disrobe upon hearing his pickup lines. Cal starts dressing better and dating Kate (a robust Marisa Tomei), not realizing his teenage babysitter, Jessica (Analeigh Tipton), has a crush on him while his young son, Robbie (Jonah Bobo), has his eyes on Jessica. Yes, it's a lot of characters in multiple plotlines but they all come together in entertaining—and surprising—ways.
In easily the best cast of the summer, Gosling is the highlight, perhaps because we've never seen him quite like this. Gone completely are the angst and turmoil of his troubled characters like Dean in Blue Valentine. Even his posture is different. Gosling's Jacob is Mr. Smooth, eyes gleaming with mirth, hair lightened with gold and abs…well, they must have put the actor in Captain America's buff-him-up machine, too. He makes the comedy look effortless, as if he's been doing it his entire career. Jacob could have easily been a cheesy playboy in a lesser actor's hand, but Gosling makes him an endearing combination of suave and sweet.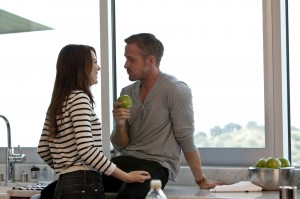 Carell is no straight man to Gosling; he gets his own share of laughs by committing to how sad and lost Cal is. Sometimes the most potent comedy arises from actors being completely serious (see: Eugene Levy in everything). Stone adds more evidence to the argument she's the most engaging actress of her age group, creating a sparkly chemistry with Gosling that brings out the goofy best in both. Bobo is thankfully non-precocious, even as he delivers speeches about love that shows how Robbie might know more about the subject than the adults give him credit for. Moore, unfortunately, doesn't have much to do. This is more about the men—it's a bro-com.
Dan Fogelman (Cars, Tangled) proves he can also write good movies for adults, and co-directors Glenn Ficarra and John Requa (I Love You, Phillip Morris) know how to make viewers laugh while giving us real sentiment. They even throw in plot twists and Josh Groban. There's a lot to like and relate to in this movie, because haven't we all been crazy, stupid or in love—perhaps often and all at the same time—at some point in our lives?
Nerd verdict: It's Crazy good
Photos: Warner Bros.