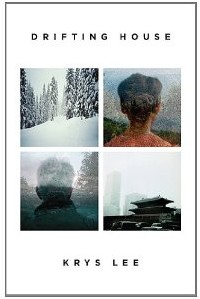 This review is by contributor Thuy Dinh, editor of the literary webzine Da Mau.
With nine cinematic, well-crafted stories, Krys Lee's debut collection literally takes your breath away in its unflinching portrayal of displacement. Almost all the stories in Drifting House illustrate the horrific but rarely redemptive struggle toward love. Her characters, while longing for change, are ultimately doomed because they cannot escape their preordained sense of self. In this way they become "drifting houses"—unmoored, hermetic vessels that travel through languages, cultures, space, and time but never "arrive" anywhere.
Believing that people "carry their history with them," and that history is not "just a family's history but the history and culture of a nation," Lee uses her writing to explore many paradoxical facets of the uprooted self. Born in South Korea, resettled in California, educated in Washington State and England, and now living in South Korea but active in resettlement efforts involving North Korean defectors, the author relentlessly navigates the porous yet alienating borders between America and Asia, North and South, reality and myth, freedom and incarceration.
Lee's fractured, volatile characters provide the cataclysm for her richly layered fiction. Their tragic flaws denounce all established notions of infallibility. Fatalistic but afraid, Lee's fugitives rarely trust their instinct. Tragedy ensues when these characters succumb to the illusion of order. In "At The Edge of the World," a family is nearly torn apart when the wife, a devout Christian, refuses to acknowledge her husband's deep yearning for his dead brother and his desperate resort to shamanism. In "The Goose Father," a married accountant is troubled by strong feelings toward his tenant, a younger male named Wuseong with "anxious rosebud lips" who owns a mangy goose that may or may not embody his mother's reincarnated soul.
In the rare instances when characters reject their predetermined roles, they are still left with a sense of profound loss akin to death or exile, because their former selves are intrinsically tied to their society and families. The snow-covered landscape in "Drifting House" is an apt metaphor. The children who flee the North Korean famine in the story face the harsh skyline of China and intuit "the dim sense that the world outstretched before them would never know or care about them." In "The Salaryman," the main character—a homeless man after losing his job—uses a pair of metal chopsticks to defend himself against thugs. Survival liberates him from illusions, and at the same time deprives him of civilization.
In Lee's world, love becomes terror because it resists all man-made boundaries. The author skillfully applies magical realism in a few stories to depict the deathless bonds of love. In its best incarnation, love—like Wuseong's deep attachment to his goose—reflects a childlike openness to mysteries. To reach this level of transcendence, acceptance of imperfection is a requisite step. In "A Small Sorrow"—my favorite story in the collection—Eunkang, an androgynous painter with "boy's hips and nipples like wild berries," finally comes to terms with her spiritual and sexual hunger. Eunkang's realization of her husband as a vain, weak man does not diminish her love for him, because she now sees him, and herself, fully. Eunkang's embrace of her condition gives a luminous cast over Drifting House. Even in her darkest, most startling depictions, Lee is full of grace.
Buy it now from Amazon
| Buy from an indie bookstore