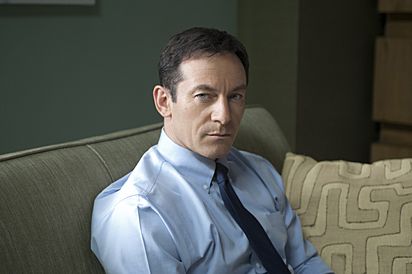 After watching the pilot for NBC's new show, Awake, I'm wondering why it was held for midseason—even the dull The Firm made it on air before this—because it's an intriguing, intelligent show that gives hope to the struggling network.
The episode begins with a car crash involving police detective Michael Britten (Jason Isaacs) and his wife (Laura Allen) and son (Dylan Minnette). Cut to Britten in the office of a therapist named Dr. Lee (BD Wong), trying to explain to him that though Britten's son, Rex, died in the accident, when he goes to sleep at night, he wakes up the next day in a parallel universe in which Rex is alive and Britten's wife, Hannah, is dead. The thing is, in that universe, the detective is seeing a Dr. Evans (Cherry Jones), who tells him his existence with Hannah is just a dream, and the life with his son is the real one. "I can assure you, Detective Britten, this is not a dream," Dr. Evans says. "That's exactly what the other shrink says," Britten replies.
On top of this mind-bending puzzle, there are the cases Britten catches at work. In the Hannah world, he's chasing a man shooting cab drivers in seemingly random fashion. On days he shares with his son, Britten is trying to solve a double murder of a couple during a home invasion and the abduction of their daughter. Things get interesting when details from one case bleed into the other.
Show creator Kyle Killen must have a thing for guys leading double lives because his last show was the short-lived Lone Star, about a man with two wives. Luckily, Awake is much more interesting and Britten is more sympathetic than the other series' con man. Isaacs, whose tired eyes and lined face make him look like he hasn't slept in a week, gives Britten a steely determination to maintain both lives, refusing to accept that either his wife or son is gone. How long he can keep that up before unraveling adds tension to the scenario (he has a terrible moment of confusion in the pilot).
We viewers aren't sure what's real, either, which means obsessive searches for clues could ensue. I think it'll come down to which world looks more realistic and which therapist is more convincing in his/her argument (right now Evans has the edge). Or the more realistic life could be the dream. Isn't the mind unreliable when dealing with grief? I'm intrigued enough to show up for future sessions, as long as writers don't tell us it's all a dream.
Note: Awake premieres on Thursday, March 1, at 10/9c on NBC, but you can watch it now here. If you've seen it, what did you think? Will you watch again? Which world is real?
Nerd verdict: Dreamlike, mesmerizing Awake
Photo: NBC