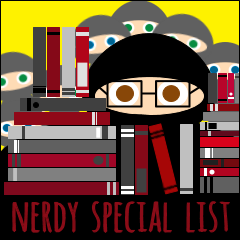 Happy short week and holiday weekend! While you're enjoying your days off to celebrate our nation's birthday, you'll need good books to read, right?
Here's what my blogger pals and I recommend among the new releases this month (some are available today).
From Jen at Jen's Book Thoughts, who has two suggestions:
Shadow of the Corps by James Dupont (Pegasus, July 1)

James Dupont's debut is part legal thriller, part military thriller, and all fun. The protagonist, Dale Riley, is an out-of-work attorney and former JAG officer who left the military under mysterious circumstances. The full story is doled out bit by bit as it alternates between past and present tense, and as Riley deals with a series of murders he's certain are tied to him. Meanwhile, his best friend, Eric Scholl, is a young FBI agent investigating cross-country serial murders. The two subplots weave together to form the DNA of a suspensefully exciting debut.

Seasoned crime readers will likely guess how the plots will tie together, but Dupont still manages to throw some curve balls. His character development is strong, and the dialogue is natural, often witty and authentic. My only beef was that the plot could've been tightened, but it's still going to be among my favorite debuts of 2013.

Whistling Past the Graveyard by Susan Crandall (Gallery Books, July 2)

Susan Crandall introduces us to her young narrator, Starla Claudelle, who is trying so hard to be good, but somehow finds herself in hot water on a regular basis. When she witnesses a bully picking on someone, Starla can't help but punch him in the nose. That punch starts her down the journey of a lifetime. Fearing she'll be sent away to reform school, she runs away. She leaves Mississippi for Nashville to search for her mother, who left Starla when she was three to pursue stardom.


Starla is a narrator to challenge the likes of Huck Finn or Scout Finch. She's smart, feisty, and yet still a bit naive. Her voice is distinctive but also reflective of the 1960s time period she's growing up in. Whistling Past the Graveyard is at turns hopeful and heartbreaking. It will encourage you to look inside yourself and others to find everyone's "special gifts."
From Julie at Girls Just Reading:
The Light in the Ruins by Chris Bohjalian (Doubleday, July 9)

A historical mystery set in the final days of the Nazi occupation of Italy, this is a slow-building but engaging novel. It starts by introducing someone who is determined to kill the remaining members of the Rosati family. You're instantly pulled in and want to know what the family did to make someone hunt them down and murder them in cold blood. I enjoyed how the author brought in the psyche of the different sides of war, and how things are perceived even if the intent behind them are different.

The novel is a mix of family drama, love story, mystery, and history lesson. It's interesting to see how the story comes together, and The Light in the Ruins doesn't disappoint.
From Rory at Fourth Street Review:
Love All by Callie Wright (Henry Holt, July 9)

In the wake of the sudden death of family matriarch Joanie, three generations of the Cole/Obermeyer family find themselves under the same roof. Bob Cole, grandfather, can't get past a scandal that happened 30 years ago. His daughter, Anne, is suspicious of her husband while hiding a secret of her own. Fifteen-year-old Julia is stuck in the middle of two boys, and 18-year-old Teddy is starting to fear what comes next.

If you love the small-town aspect of a Richard Russo novel (I mention him often because he's one of my favorite authors), and the baseball aspect and finely wrought characters of Chad Harbach's The Art of Fielding, then Love All is for you. The novel effortlessly weaves small-town life, sports, love, infidelity, and coming of age—at any age—together in this remarkable dramatic comedy. (Read Rory's full review at her blog.)
From PCN:
The Fire Witness by Lars Kepler, trans. by Laura A. Wideburg (Sarah Crichton Books, July 2)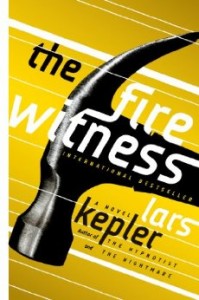 This starts out creepy and just gets crazier from there. One night at a home for troubled girls, one of the residents and a staff member are found with their skulls bashed in. Vicky, another resident at the home, is suspected of both killings when police find the bloody murder weapon in her room, but she is missing. Reports then surface that she has stolen a car nearby with a toddler inside, and a manhunt is on to apprehend Vicky and recover the boy.
That short synopsis doesn't begin to capture what a wild, unpredictable trip this Swedish thriller is. The story has several subplots shooting off in different directions, each more outrageous than the next, but they all come together to form a tragic tale of family dysfunction and the damage it wreaks.
What are you looking forward to reading in July?
(Click here for past lists.)