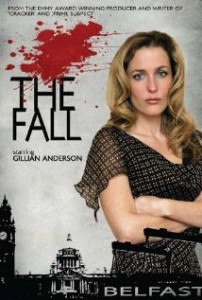 I was idly surfing the Internet this past weekend when I stumbled upon an interview with Gillian Anderson promoting her new TV show, Crisis, that premiered on NBC on Sunday. Network programming hasn't impressed me much these past few years, so Crisis sounded only mildly interesting, but what made me perk up was Anderson's mention of The Fall, her hit TV show for the BBC that aired last year. I immediately sought out the first season (available on Netflix and Amazon), stayed up until 4:30 a.m. binge-watching, and screamed in frustration when the five-episode first season ended on a cliffhanger.
Anderson, long a favorite of mine, plays Stella Gibson, a London detective superintendent sent to Belfast (Happy St. Patrick's Day!) to track down a serial killer. We know at the very beginning who the killer is—Paul Spector (Jamie Dornan), a grief counselor with a wife and two young kids. The suspense comes in watching these two operate on parallel lines, she hunting the predator even has he preys on his female victims.
The show starts a bit slow but picks up fairly soon, with some unsettling scenes and surprising twists. Spector is not the smartest killer and makes several mistakes, so it's frustrating when the people around him don't pick up on the clues, allowing him to continue to get away with murder. Luckily Gibson is closing in by the end of the season, and Anderson promises a darker, more intense second season (which started filming last week and currently has no air date).
Some critics have compared Gibson to Prime Suspect's Jane Tennison and the comparison is apt—both women are formidable, smart, and very good detectives—but Gibson is much sexier. Nothing against Helen Mirren, who played Tennison, because we all know the actress is sexy as hell, but Tennison was lonely, consumed by her job, and almost asexual. Gibson is alluring and sexually frank, but this aspect of the character takes nothing away from her work. Her male colleagues lust after her and respect her at the same time.
Anderson knows the key to Stella's strength and appeal is her stillness, direct gaze, and never having to raise her voice. There are scenes in which she cuts men down so calmly yet effectively with her words, you can almost hear the sound of the guys', ah, cojones shrinking as they slink out of the room.
The show is also interesting as a showcase for Jamie Dornan. The actor's name has been in a rash of media stories due to his upcoming turn as Christian Grey in the movie adaptation of Fifty Shades of Grey, but the only thing I knew about him was that he's a former Calvin Klein model. Though his character is neither suave nor sexy here, Dornan does a credible job. He makes Paul Spector so detestable, I want Gibson to take him down in a hard and painful way. That sick bastard needs to pay. My wait for the second season already seems long and it's been only one day since I saw the first-season finale.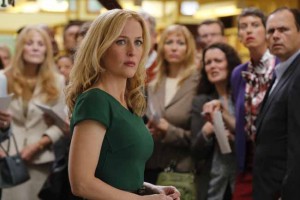 Wanting another Anderson fix, I watched Crisis on Sunday. The premise has a group of kids on a field trip getting kidnapped, and one of them happens to be the son of the US president. Anderson plays Meg Fitch, a billionaire whose daughter is also among the hostages, and Fitch's sister is FBI agent Susie Dunn (Rachael Taylor), assigned to the case. Dermot Mulroney plays a dad chaperoning the field trip who gets rounded up with the kids.
Most of the actors playing the kids are forgettable and give unconvincing line readings, Anderson is not in as many scenes as I'd like, and some plot points are illogical, but I'm intrigued enough to keep watching for now to see what the kidnappers' end game is.
Nerd verdicts: Gripping Fall, lukewarm Crisis
Photo: Vivian Zink/NBC