This review originally appeared in Shelf Awareness for Readers and is reprinted here with permission.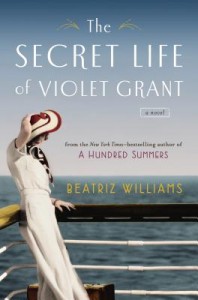 Like her previous historical novels (Overseas and A Hundred Summers), Beatriz Williams's The Secret Life of Violet Grant alternates between time periods, but this book features two different heroines—the titular character and her great-niece, Vivian.
In 1964, Vivian leaves her privileged Fifth Avenue childhood behind to make her own way in New York City after graduating from Bryn Mawr. She gets a job as a fact checker at Metropolitan magazine, with hopes of becoming a writer. A potentially hot story lands in her lap—well, her mailbox—when she receives a notice to pick up a package at the post office. It turns out to be a suitcase more than fifty years old, belonging to her great-aunt, Violet, a scientist who reportedly murdered her husband in Berlin in 1914 before fleeing with her lover. Vivian is determined to track down what happened to Violet and publish her story in Metropolitan to settle decades-old rumors.
Readers will be swept away to Europe on the brink of the First World War and 1960s New York City, and Vivian is the kind of sassy heroine Williams's fans have come to love. She throws snappy banter at Doctor Paul, the handsome man she meets at the post office, the way an actress like Carole Lombard would in a classic movie. Violet is more innocent but exhibits a strong will by crossing the Atlantic to study physics in London in 1911, blossoming when she meets her true love. The late twist in the story is not entirely convincing but readers likely won't mind since it provides a satisfying ending.
Nerd verdict: Smart, romantic Secret