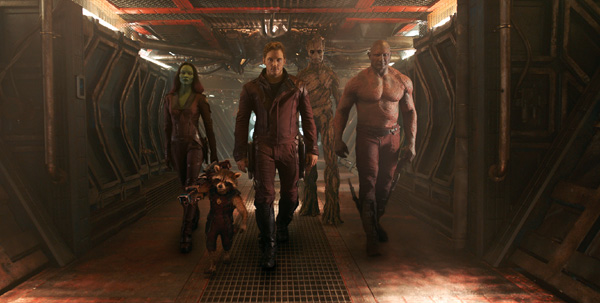 Disclosure one: I went into the Guardians of the Galaxy screening a few weeks ago knowing nothing about it, other than that it has a weird group of characters at its center and a bunch of name actors are in it, either on camera or as voice talent.
Disclosure two: I was pleasantly surprised and enjoyed the movie, even if I didn't understand some of the finer details.
The plot, which seems almost beside the point, involves Peter Quill (Chris Pratt), a treasure hunter who obtains a mysterious orb that everyone in the galaxy seems to want. It brings him into the orbit of Zamora (Zoe Saldana), a green-skinned badass; Rocket (voiced by Bradley Cooper), an angry, genetically altered raccoon; Rocket's buddy, Groot (voiced by Vin Diesel), a talking tree with a limited vocabulary; and Drax the Destroyer (Dave Bautista), a man hell bent on revenge. They form a tentative bond to stop a bad guy named Ronan (Lee Pace) from doing more bad things.
Guardians has something for everyone: humor, action, special effects, and most importantly, good actors. Pratt is nimble with his zingers and a likable anchor, though he still seems too generic for me, his screen presence not quite remarkable enough to put him into the same category of movie star as, say, Ryan Gosling or Robert Downey Jr.
Saldana is solid, but after Avatar and the Star Trek movies, there's nothing surprising about seeing her in yet another big-budget sci-fi movie.
I was surprised by Cooper's performance. His voice is unrecognizable—raspy, rapid fire, and with a slight Jersey accent at times. He brings many colors to Rocket and the raccoon stole the movie.
Oh, and how can I not mention the soundtrack of '70s and '80s hits? I cannot hear 10cc's "I'm Not in Love" or Blue Swede's "Hooked on a Feeling" now without thinking of specific scenes. What clever use of music.
So far this summer, I've been subjected to some mind-numbing blockbusters, but Guardians is something that won't have you begging for mercy (*cough* Transformers *cough*) before the movie's over.
Nerd verdict: Fun ride through Galaxy
Photo: Marvel Studios