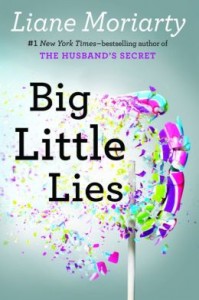 When you've loved doing something your whole life and that thing stops giving you pleasure, you can be thrown into an existential crisis. This is what happened to me with reading.
For 2-3 months recently, I couldn't find a book that enthralled me, that pulled me into its world and made me fall in love with it. I started to wonder whether or not I needed to find another hobby (gasp!), because I just couldn't bear the repeated disappointment.
And then I read Liane Moriarty's Big Little Lies, which swooped in to save the day.
The author of The Husband's Secret has done it again. Lies is another multi-layered story of characters in difficult situations, faced with only hard and harder choices.
The central trio of women consists of Madeline, who might be losing her 14-year-old daughter to the ex-husband and his new wife; Celeste, whose seemingly perfect marriage to a dream man contains a painful secret; and Jane, a single mom whose 5-year-old son becomes ostracized (as is Jane by proxy) after an incident at his school during orientation.
The book begins with the revelation that someone gets killed during the school trivia night. Then the story goes back six months, showing how the women met and befriended each other. Excerpts from interviews with town denizens are inserted throughout as a kind of Greek chorus. The action eventually leads up to the disastrous trivia night, finally revealing the victim's identity.
It's not just that mystery, though, that held my attention. The three lead characters are well drawn and sympathetic, people capable of doing unwise things but who can also be breathtakingly kind and fiercely loyal. Nobody is one thing in Moriarty's world—not all good, not all bad, only all too human.
The story is heartwrenching and disturbing at times, but also contains plenty of humor, courtesy of the PTA moms jockeying for position. Moriarty's observations are sharp and her prose hums along with nary a false word. The 460 pages flew by for me within a 24-hour period, because this book is captivating and that's no lie.
Nerd verdict: Big entertaining book