This review originally appeared in Shelf Awareness for Readers and is reprinted here with permission.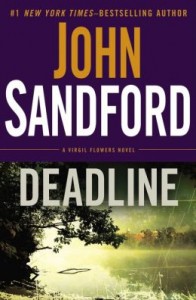 As a favor for a friend, Minnesota Bureau of Criminal Apprehension agent Virgil Flowers looks into multiple dognappings that have occurred in the small town of Trippton, where his friend lives. Someone is stealing the residents' pets, and rumor has it the canines are being sold to medical labs.
Before Flowers can make much headway in the investigation, he also stumbles upon a meth lab and some school board members who have been stealing millions of dollars of school funds. When a local reporter comes close to exposing them, he's murdered. Turns out it's only the first murder in a string of them, as Virgil takes up where the reporter left off and the crooked board members resort to extreme means to cover up their corrupt activities.
There's a lot going on in Deadline, John Sandford's eighth Virgil Flowers outing (after 2013's Storm Front). The biggest joys of this series are Flowers himself (his boss is Lucas Davenport from Sandford's Prey novels), the cast of eccentric supporting characters, and the humorous dialogue. In one conversation, one of Flowers's fellow BCA agents observes that since "half of all shoot-outs are inside buildings," he'd get rich if he invented "office camo," so "you'd look like a cabinet, or maybe a water cooler." Readers familiar with Flowers's profane nickname will appreciate the name he gives a new friend at the end, but the uninitiated can also enjoy this installment without having read the previous books.
Nerd verdict: Lively Deadline