This review originally appeared in Shelf Awareness for Readers and is reprinted here with permission.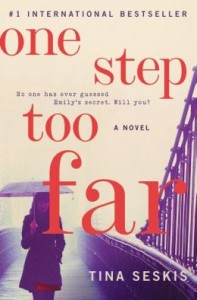 At the start of British author Tina Seskis's debut novel, One Step Too Far, a married lawyer named Emily Coleman is running away from her family and establishing a new identity as the single Catherine "Cat" Brown, who lives in a hovel with a gaggle of roommates. Her personality and wardrobe get a complete makeover, as does her career.
She lands a job answering phones at an ad agency and works her way up to account manager within nine months. Her success is tempered, however, by the dreaded anniversary of the event that sent her on the run. Can she keep up her façade as the date approaches, or will her new life unravel under the strain of her secret?
Seskis slowly doles out the details surrounding the darkness in Emily's past while keeping momentum, showing the devastation Emily's husband experiences even as she tries to forget him, and moving back and forth in time to delve into Emily's family history. Frances, Andrew and Caroline—her mother, father, and sister—are all flawed and often unlikable, but they're well-fleshed-out characters with clear and plausible motivations who make no excuses for their bad behavior.
The novel is touted as a psychological thriller with a shocking twist. It's more accurate to say One Step Too Far is a study of a dysfunctional family. The end is not so much a twist as an explanation of Emily's behavior that will leave readers feeling gut-punched.
Nerd verdict: Absorbing if not Too twisty