A couple weeks ago, I received a cookbook for review. Since me in the kitchen is the equivalent of a child running with scissors while chased by wild dogs across a freeway, I might seem like the last person who should be reviewing a cookbook.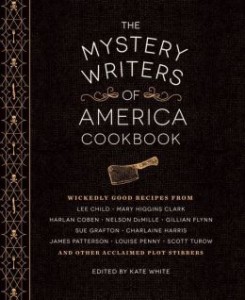 But this one is different. Edited by Kate White, The Mystery Writers of America Cookbook (out March 24) has recipes from some of today's most popular crime fiction writers, including Mary Higgins Clark, Meg Gardiner, Harlan Coben, Charlaine Harris, Peter James, and Lee Child (who contributed recipes for "A Delicious Best Seller" and "Coffee, Pot of One").
Even a person with limited culinary skills like me can handle a pot of coffee, "Kinsey Millhone's Famous Peanut Butter & Pickle Sandwich," and Lisa Scottoline's "A Tomato Sauce for All Seasons." Many of the recipes are accompanied by mouth-watering color photos—why wasn't I sent the actual dishes to review?!—making the book a handsome gift for crime-loving cooks.
Want a taste? Check out this recipe from Gillian Flynn.
Beef Skillet Fiesta

Be warned: I am no gourmet. I come from a long, proud Midwestern tradition of meals made from snack chips and canned soup. My characters tend to follow suit: They like their food simple and tasty. So here's my favorite stove-top recipe, Beef Skillet Fiesta, which my mom cooked for her family and I now cook for mine.

Yield: 4 servings

1 pound ground beef

1/4 cup diced onion

2 teaspoons salt

1 teaspoon chili powder

1⁄4 teaspoon black pepper

1 16-ounce can diced tomatoes

1 12-ounce can corn

11⁄4 cups beef bouillon

1⁄2 cup thin strips of green pepper

11⁄3 cups Minute rice

1. Brown ground beef in a skillet and drain. Add onion and cook until tender.

2. Add salt, chili powder, pepper, tomatoes, corn, and bouillon and bring to a boil. Stir in green pepper. Bring to a boil again.

3. Stir in rice, remove from heat, and cover. Let stand for 5 minutes.

4. Fluff with a fork.

5. Serve with cottage cheese. (The cottage cheese part isn't strictly required, but highly recommended—cottage cheese makes everything better.)

Note: If you prefer regular rice to Minute rice, cook the rice separately and spoon the Skillet Fiesta over it.

GILLIAN FLYNN is the author of the #1 New York Times best seller Gone Girl, the New York Times best seller Dark Places, and the Dagger Award–winning Sharp Objects. She is also the screenwriter for the film adaptation of Gone Girl, directed by David Fincher and starring Ben Affleck.

Excerpted from The Mystery Writers of America Cookbook edited by Kate White. Reprinted with permission from Quirk Books.
If you'd like to get a hand on a copy, you're in luck. I'm giving away two copies, thanks to Saichek Publicity. To enter, leave a comment telling me what recipe you'd like to have from one of your favorite fictional characters. It doesn't have to be something they've actually made in the book(s) they've appeared in, just something you think they'd be good at making.
Giveaway ends next Friday, March 27 at midnight PST. US addresses only, please. Winners will have 48 hours after notification to reply before alternate winners are chosen.