This review originally appeared in Shelf Awareness for Readers and is reprinted here with permission.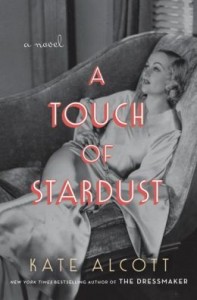 Last year was the 75th anniversary of the movie Gone with the Wind, and now Kate Alcott's novel A Touch of Stardust takes readers behind the scenes during the filming of that landmark production.
In 1938, bright-eyed Julie Crawford from Fort Wayne, Ind., comes to Los Angeles with dreams of writing for the silver screen, inspired after hearing trailblazing screenwriter Frances Marion speak at Smith College, her alma mater. Julie gets a job in the publicity office at Selznick International Pictures, the production company of famed producer David O. Selznick, who has just started filming the movie adaptation of Margaret Mitchell's novel.
Julie quickly gets fired by the mercurial Selznick, but not before meeting the actress Carole Lombard, who is also from Fort Wayne and makes Julie her personal assistant. Julie gets an intimate glimpse of the love affair between her employer and Clark Gable, as she tries to juggle her own romance with Selznick's assistant producer and navigate the treacherous terrains of Tinseltown.
Fans of old-Hollywood glamour will be captivated by the shimmery details Alcott serves up about life on movie sets and in movie stars' homes, in a blend of fact and fiction. The most entrancing character is the sassy, blunt-spoken Lombard, whom the author brings so vividly to life that the actress's tragic death at a young age (mentioned only in the epilogue) feels like a huge loss all over again. Julie and her boyfriend, Andy, are a bit flat compared to Lombard and Gable, but Alcott's novel should be a breezy read for those with stardust in their eyes.
Nerd verdict: Shimmery Stardust