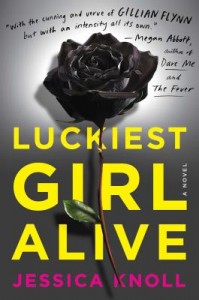 Jessica Knoll, a former Cosmopolitan magazine editor, debuts in book publishing with Luckiest Girl Alive, a novel that adroitly handles timely news topics.
Ani FaNelli is an editor at a women's magazine in New York City, and engaged to the JFK, Jr.-esque Luke Harrison. Before Ani ties the knot, she agrees to be interviewed for a documentary about the devastating events that occurred while she was a student at an august prep school in Pennsylvania. The tragedy rudely thrust her into the public eye 14 years earlier, and Ani finally wants to set the record straight. In doing so, she could also unravel her seemingly perfect world.
Ani may come across as snarky and shallow at first, going to great lengths to curate an enviable life, complete with a glamorous job, aristocratic fiancé and four-carat engagement ring. But as her secrets are revealed, so is her vulnerable side. What happened to her as a teen—and is happening now too often to young people in real life—would destroy the average person, but it fueled Ani to strive for the brass ring. To her, success is the best revenge, and readers will want her to achieve it.
Knoll writes with veritas about Ani's workplace: "The uglier and trendier [my] outfit, the stronger I emanate intimidating magazine editor." Similes are arguably overused, but many descriptions are incisive and witty, such as a girl's eyes being "so far apart they were practically in her sideburns." Knoll balances the sharp with the sad, creating a protagonist who has pieces of both.
This review originally appeared in Shelf Awareness for Readers and is republished here with permission.