The holidays are upon us and the movies are coming out fast and furious, competing for your dollars. Since you're probably doing last-minute shopping and have no time for full reviews, I'll keep my comments concise for the following batch of films. (For reviews of Rogue One, La La Land, Jackie, and others, click on the titles,)
Fences
Denzel Washington directs as well as stars in this movie version of August Wilson's Pulitzer-winning play about a black man in the 1950s who takes out his frustrations about life and career on his family.
No doubt the acting is strong, with Viola Davis a front runner to win the best supporting actress Oscar, but Washington's performance is too over the top for me (they both won Tonys in 2010 for playing the same roles on Broadway).
The movie looks like a play that was filmed instead of a true adaptation, i.e. it's static with mostly one location and lots of monologues. What works on stage is too big and presentational for a more intimate medium. It should've been opened up more but instead it feels, well, fenced in.
20th Century Women
Mike Mills based 2010's Beginners on his dad and directed Christopher Plummer all the way to an Oscar for the role. With 20th Century Women, Mills tells the story of his mother, played by the radiant Annette Bening.
Dorothea is an earthy single mom raising her teenage son, Jamie, in 1979 Southern California. She asks for parenting input from the man (Billy Crudup) renovating her house, a female boarder (Greta Gerwig), and Jamie's best childhood friend, Julie (Elle Fanning), on whom Jamie has a not-so-secret crush.
These characters form an unusual family unit, each with his/her own story that's both funny and sad, but the film is a showcase for Bening, whose every line and emotional note rings true.
Sing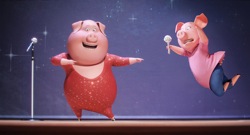 The premise: a koala bear is determined to save his crumbling theater by holding a singing competition. Contestants include pigs in sequins, a piano-playing gorilla, a shy elephant, and a rock 'n' roll porcupine.
You don't have to be a kid or like animation to enjoy this movie. The story line is sparse and characters don't get deep backstories, but the movie is infectious with its can-do spirit and never-give-up-your-dreams mentality. Kids will be delighted by the funny animals and adults will tap their feet to the soundtrack, which includes singing by stars like Reese Witherspoon, Scarlett Johansson, Matthew McConaughey, and Jennifer Hudson.
Hidden Figures
Taraji P. Henson, Octavia Spencer, and Janelle Monaé play the 3 female black mathematicians who "helped [the US] win the space race," according to the subtitle of Margot Lee Shetterly's nonfiction book, from which this movie was adapted.
The racism and sexism these women experienced frustrated the heck out of me, and made me wonder how much more our country could accomplish (and how much faster we could do it) if qualified people are simply given a chance, regardless of skin color or gender.
The story is ultimately inspiring, though, considering all that Katherine Jackson, Dorothy Vaughan, and Mary Jackson were able to achieve despite the obstacles in their way. The cast is all good, but Monaé as the confident, sassy Mary is the one with the breakout role. It's incredible that this is only the singer's second on-camera acting role (after Moonlight).
Though he has limited screen time, Glen Powell also stands out as John Glenn, one of Katherine's champions. I hope the real Mr. Glenn got to see how well he was portrayed before he left Earth to explore the next dimension.
Which movies are you excited about this season?
Photos: Fences/Paramount, 20th Century Women/A24, Sing/Universal, Hidden Figures/Fox