Wow. I tuned into the Oscars hoping for at least one surprise and I got it, all right.
In case you'd bailed on the very long show and haven't heard: the wrong best picture winner was announced (La La Land) and the winners had already come on stage and were in the middle of their speeches when Jordan Horowitz, one of LLL's producers, announced Moonlight actually won best picture, saying "It's not a joke," and raised the correct card to prove it.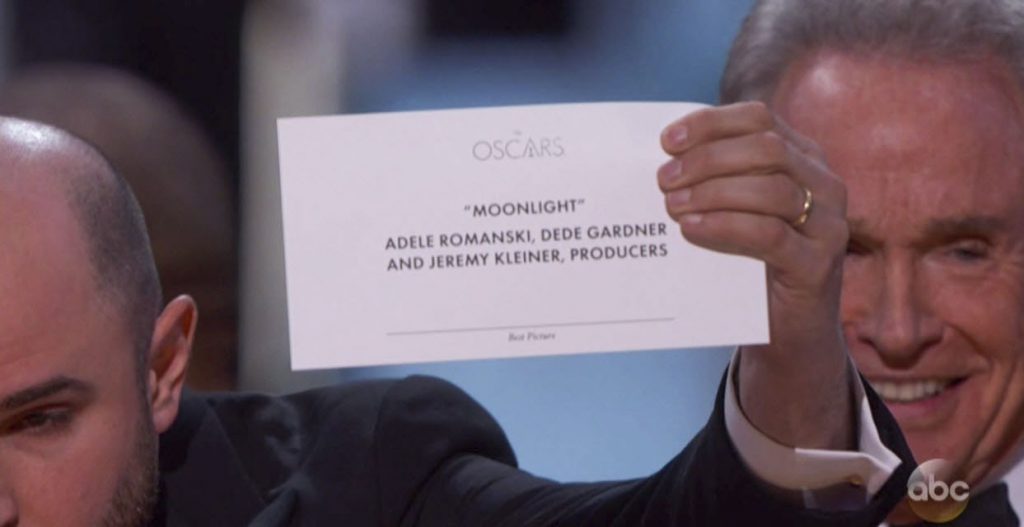 My reaction:
Horowitz and the rest of the La La Land crew were incredibly gracious to the Moonlight group, hugging and congratulating them as they came onstage in a daze.
Before they could give their acceptance speeches, however, Warren Beatty explained he was given the best actress card by mistake. To make things momentarily weirder, Emma Stone, who'd won that category, said backstage she was holding the Best Actress card the whole time. Whaaaat?
Turns out there were two cards for each winner. See explanation here. Mystery solved. Or at least some of it. How/why was Beatty given the wrong envelope? Why did Faye Dunaway say La La Land when looking at the wrong card? (She declined to comment when The Hollywood Reporter asked her at the Governors Ball afterward.)
Here's a clip of the confusing moment:
This closeup, tweeted by ABC News, shows Beatty holding the wrong envelope.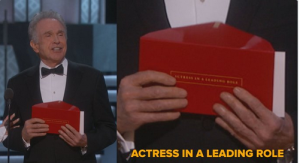 I liked both movies and would've been happy with either as the winner. In a way, both did win, for Best Handling of a Mistake Seen by a Billion People.
Now, let's see…what else happened during the show?
Justin Timberlake opened it with an energetic performance of best-song nominee "Can't Stop the Feeling" that got everyone up and dancing, which was fun. But little did they know when they sat down that they wouldn't be getting up again for many, many hours.
Some highlights:
Most delicious surprise: No, I'm not talking about Viggo Mortensen in a tux. That's no surprise. I'm referring to the free candy and donuts dropping from the ceiling to keep the audience happy and not hungry. I swear, if bag o' chips had started dropping, I would've jumped in my car, driven over to the Dolby Theater, and tried to grab a few.
Funniest disrespect of a celebrity: Host Jimmy Kimmel's continuing diss of Matt Damon. The actor was announced only as Ben Affleck's guest when the two came out to present Best Original Screenplay, and then Kimmel tried to play Damon off with music when Damon tried to announce the nominees. His takedown of Damon's performance in We Bought a Zoo—"his acting is so effortful"—got in some good digs.
Cutest kid in the candy store: Lin-Manuel Miranda. The Hamilton creator was enjoying the heck out of himself, happy and smiling big the whole night, like someone had put all his favorite things in the world in one place and he couldn't believe his eyes. It was nice to see someone who wasn't too cool or jaded to be there.
Cutest kid who's actually a kid: Sunny Pawar. I'm not sure how I feel about Kimmel holding up Pawar Simba-style, but it was adorable how Pawar asked for Mike & Ike candy while that was happening.
Favorite dedication to theater nerds: best song co-winner Benj Pasek (with Justin Paul and Justin Hurwitz for "City of Stars" from La La Land) said, "[My mom] let me quit the JCC soccer league to be in a school musical, so this is dedicated to all the kids who sing in the rain and all the moms who let them." I hated soccer in high school, too, and was much happier in theater. High five, Benj, and to all the cool moms.
Moments that made me cry: tie between Katherine Johnson, now 98, one of the real-life "Hidden Figures," coming out on stage; and the In Memoriam segment, with Sara Bareilles singing "Both Sides Now."
On top of the reel reminding us of so many greats we lost last year (nice touch to have presenter Jennifer Aniston mention Bill Paxton, who died yesterday), that song guts me every time I hear it. And then the segment ends with Carrie Fisher as General Organa saying, "May the Force be with you." I was gone.
Best political statements: there were many, done eloquently. It was as simple as Alessandro Bertolazzi, who won best makeup for Suicide Squad, dedicating his Oscar to "all the immigrants." Or as pointed as best foreign film director Asghar Farhadi, who stayed in Iran to show solidarity with his people being banned from the US, sending someone in his place to read his statement that says, "Dividing the world into the us and our enemies categories creates fear, a deceitful justification for aggression and war." I never felt hit over the head or lectured by these remarks. And oh, yeah, Mahershala Ali became the first Muslim to win an Oscar.
OK, Mr. PCN is yelling at me from the other room that I have to wrap this up because it's 1:30 a.m. I'd better move on to the fashion commentary before he cuts me off by playing loud music.
No one's gown wowed me. Most looked fine but safe. Below are a few who did stand out, for better or worse.
Mr. PCN: She looks great on the top half, bottom half is a lampshade.
Mr. PCN: Nude woman with doilies.
PCN: It does look in photos like she's wearing a fancy nude bodysuit, but the beading looked much prettier on TV.
PCN: So much going on, but she carries it well.
Mr. PCN: Why is she carrying two birdcages?
Mr. PCN: Auditioning for The Wiz.
PCN: Little Orphan Halle gets caught in fishing net.
Mr. PCN: Cleopatra in space.
PCN: Golden camo, so she can be invisible in a jungle of Oscars.
Mr. PCN: Isn't she a Victoria's Secret model? She should be wearing wings instead of a cape.
PCN: I just want to know—why is she at the Oscars?
Mr. PCN: Spanish vampire.
Mr. PCN: I thought Emma Watson is playing Belle.
PCN: I didn't know IKEA shopping bags could be worn as evening gowns.
PCN: My favorite look, elegance crossed with badass. Look at that pose and those dark nails.
Did you watch? What did you think? (See complete list of winners here.)
Photos: Stone–Kevin Mazur/Getty, Huppert–Steve Granitz/Wireimage, all others–Frazer Harrison/Getty