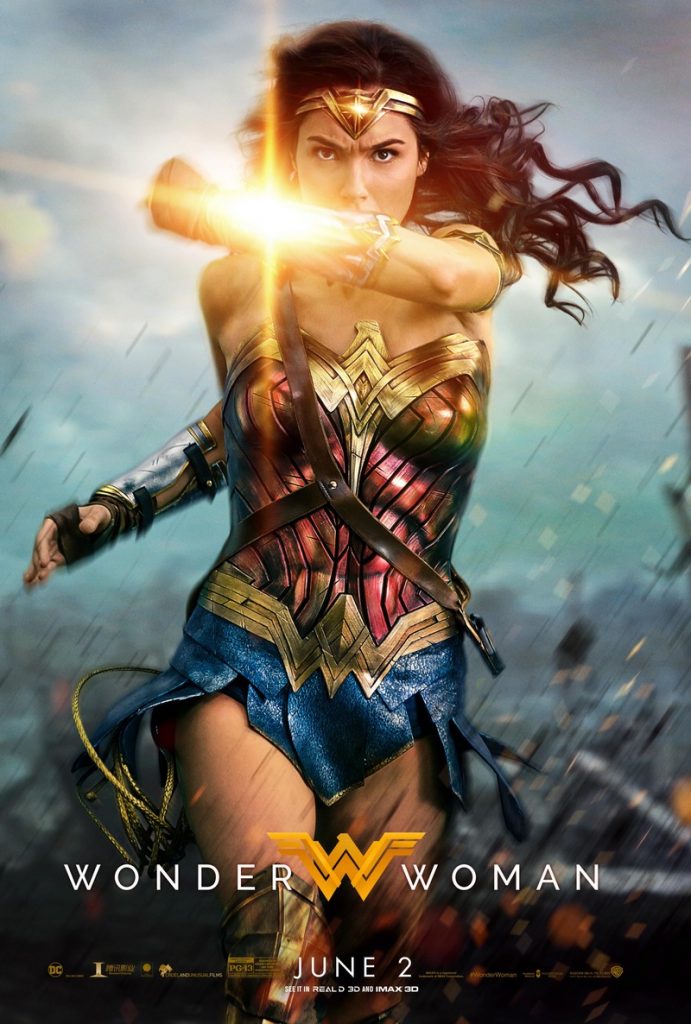 I'm so excited the review embargo has finally been lifted on Wonder Woman and I can share how good it is!!
I hated last year's Batman v. Superman: Dawn of Justice, and even Wonder Woman's cameo couldn't save it. I wasn't impressed by what little I saw of Gal Gadot in that movie. All she was allowed to do was be a mannequin in gorgeous gowns and briefly fight as WW, without showing much personality.
What a difference it makes when she gets to be the star of her own movie. Gadot doesn't have the greatest emotional range, but she's much warmer and playful in Wonder Woman. She's convincing as both a warrior and an innocent, when Diana meets a man, leaves her all-female home island of Themyscira, and experiences the real world—all for the first time.
That man, of course, is pilot Steve Trevor, imbued by Chris Pine with gravitas when called for, and deadpan humor when not. Steve isn't just a helpless mortal always in need of being saved, like women often are in movies about male superheroes. Pine gets to do some heroic stuff, too. He and Gadot make a winning crime-fighting pair.
The supporting cast of Amazons, led by Connie Nielsen as Queen Hippolyta and Robin Wright as General Antiope—Diana's mother and aunt, respectively—can be best described by one word: fierce. Their fight scenes are awe-inducing. I've followed Wright's career for more than 30 years and I've never seen her kick ass like this. It made me think of Chinese martial arts films, where women fight as brutally as men and no punches are pulled for them. They aren't trying to be cute or bopping someone over the head with a frying pan. These women are warriors and have the scars to prove it.
The real leader of cast and crew is director Patty Jenkins, who has managed to create a thrilling, action-filled movie that's also surprisingly poignant and contains social commentary. Instead of going up against CGI monsters, Wonder Woman fights man, those consumed with power and greed who are willing to slaughter innocents in their bid for supremacy. WW is refreshingly free of angst—when she sees evil, she charges full steam ahead to combat it. She doesn't go on a long trip to some far-flung location to gaze at her navel first, like some of her Justice League pals.
Wonder Woman—like the other Amazons of Themyscira—believes we should be governed by decency, wisdom, compassion, and courage. She's the hero we need right now. Her world is an inspiring place to visit, and I can't wait to see it again soon.