May is Asian/Pacific American Heritage Month, the perfect time for me to run this interview with author Helen Hoang, who is half Vietnamese.
Her debut, The Kiss Quotient, was a breakout hit in 2018 and acquired by Pilgrim Media Group for a movie adaptation. Kiss features a brilliant female lead with autism—which Hoang also has—and a sexy half-Vietnamese man as the love interest.
Read on for my review of Hoang's follow-up, The Bride Test, and my chat with her. (Both originally ran in Shelf Awareness for Readers and are republished here with permission.)
Review: The Bride Test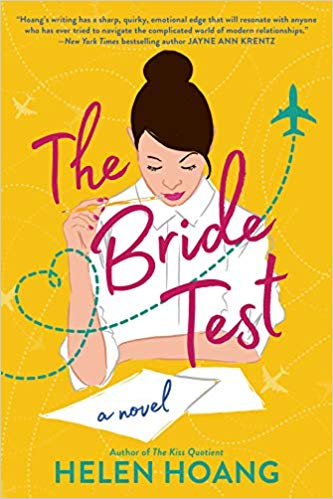 Khai Diep is certain he has a stone heart, one that can't feel love or sadness. During his cousin Andy's funeral, Khai remains dry-eyed. It doesn't bother him too much, though. Isn't it a good thing grief can't touch him? Who wants to wail like his aunties? Besides, he likes being alone with his routines, not dealing with messy emotions.
But his mother has other ideas. She knows Khai processes emotions and social cues differently because he has autism. She goes to Vietnam to choose him a bride and meets My, a feisty young single mother who cleans hotel bathrooms. Khai's mother gives My a startling offer: she'll pay for My to spend the summer with Khai in California and get him to marry her. Other than the possibility of a better life for her and her young daughter, My has another reason for accepting the offer: she wants to find her American father, whom she's never known.
My renames herself Esmeralda, and her plan to win over Khai leads to unexpected discoveries about herself and what she wants from life.
Helen Hoang's The Bride Test is even more affecting than her breakout hit, The Kiss Quotient. With heart and humor, she humanizes people who are routinely marginalized, and Esme especially is someone to root for–a woman born into poverty who knows her value even when the world looks down on her. By the time Hoang says in the author's note that Esme is based on the author's own mother, a war refugee who became a successful businesswoman, readers might find their eyes aren't dry at all.
Helen Hoang: Writing from the Heart
Helen Hoang lives in San Diego, Calif., with her husband and two children. In her author's note in The Bride Test, Hoang mentions that her heroine is inspired by Hoang's mother, a former Vietnamese refugee and successful businesswoman who passed away recently.
Did your mother read The Bride Test? How would she feel about Co Nga arranging a mail-order bride for her son?
No, my mom never read the book. But my aunt tried to arrange a wife for my cousin in much the same manner [as in the book], and my mom was aware of that. She didn't seem to think the idea was that outrageous, though she was never very meddling with my siblings and me.
Why does Co Nga choose a woman from Vietnam, instead of from the local Vietnamese American community?
When my aunt tried to arrange a marriage for my cousin, she spoke to women in Vietnam because the Vietnamese American women she knew were either uninterested in her son or not up to her standards in terms of Vietnamese traditions and values.
What were some of those standards? And what was the result of her matchmaking attempt?
My aunt was unsuccessful. Her son refused to meet any of the girls she liked from Vietnam and eventually married a Filipino American woman. I believe my aunt wanted him to marry a woman who spoke Vietnamese and would be a homemaker, practice Buddhism, give her grandbabies and take care of her in her old age.
Your author's note says you interviewed your mother for this book, about her experiences growing up poor and as a refugee. What was the biggest revelation for you during these discussions?
Growing up, I often thought my mom worked not only by necessity, but by preference. In other words, she was a workaholic, and sometimes I was resentful of this when I was a kid. Through these conversations with my mom, I came to understand why she was compelled to work so much and I could better empathize with her. Not only was she providing for her family and achieving financial security, but she was earning her own sense of worth. That was a heartbreaking realization for me–that her sense of self-worth was dependent on how much money she made.
How has writing about people with autism helped you in your daily life?
Writing these books has helped me process and understand my own autism so I can better communicate my needs with the people in my life and advocate for myself. For example, as I wrote The Bride Test, I finally understood why I bring books to wedding receptions. These events are truly overwhelming to me and because I'm physically trapped there, I read in an attempt to escape into myself. Now, instead of bringing a book to a wedding, I can leave early and it's okay. People don't get angry.
Your voice, and those of your protagonists, are specific and distinctive. What have readers told you they've learned the most from your characters and stories?
From what I've heard, it is eye-opening to read from the perspective of an autistic and/or Asian/Asian American character.
Regarding the autistic perspective, readers have appreciated learning about the specific challenges facing autistic people, but they've also remarked that they were happy to see that people of different neurotypes still have the same basic emotional needs and insecurities as most everyone else.
Khai's brother, Quan, has made memorable appearances in The Kiss Quotient and The Bride Test, and steps onto center stage in your next book. Anything juicy you can tell us about it?
I've been conceptualizing Quan's book as a gender-swapped Sabrina, where instead of the chauffeur's daughter and the two rich brothers, we have the chef's son and the two rich sisters.
You write about people who rarely get to be the center of Westernized stories. The couple in The Kiss Quotient include a half-Vietnamese man (who's hot, not nerdy!), while both leads in The Bride Test are of Vietnamese descent, though one is half Vietnamese. Any plans for a story with both leads being 100% Vietnamese?
For Quan's book, his love interest is Chinese American, and my next contracted books after this feature Michael's sisters from The Kiss Quotient, who are all half Vietnamese. I don't have specific plans to write a story with both leads being 100% Vietnamese, but I'm certainly not ruling it out.
Follow PCN on Instagram, Twitter, and Facebook.
PCN is an Amazon affiliate and might receive a small commission if a purchase is made via the buy link.